Wouldn't it be fun to have a good friend in Spain?
That's the whole point of hosting an exchange student (from any country): friendship without borders stretching around the globe.
But, when you choose a student from Spain, what exactly will you get? You will link your life to this stunning land, criss-crossed with cathedrals, castles, fortresses, Roman ruins, Moorish palaces, wineries, eateries, fresh-bread-bakeries, cobble-stoned city centres and a wide array of awesome architecture.
And, that's just for starters.
Photo: Barcelona's Cathedral of the Holy Cross and Saint Eulalia.
As a Seattle native living in Spain (for 25 years), I can give you so many reasons to invite a Spanish teenager into your home. Check out the video (below), and the list that follows, for inspiration to create your very own Spanish connection...
But, before we begin: let's remember we are working with teenagers. Each one is unique. Most of them will naturally tick off plenty of items on the following list, but some may need a nudge. Just sharing this list with your student will surely get the ball rolling:
1. Taste (Authentic) Spanish Cuisine
Food is an excellent reason to host a student from Spain.
Like a good Spaniard, Mikel from Madrid (featured in the video above) was very enthusiastic about sharing his Spanish culture with his host family in Oregon. "I'm really into music and gastronomy, so I shared lots of songs and made plenty of dishes," he recalls.
Bravo, Mikel!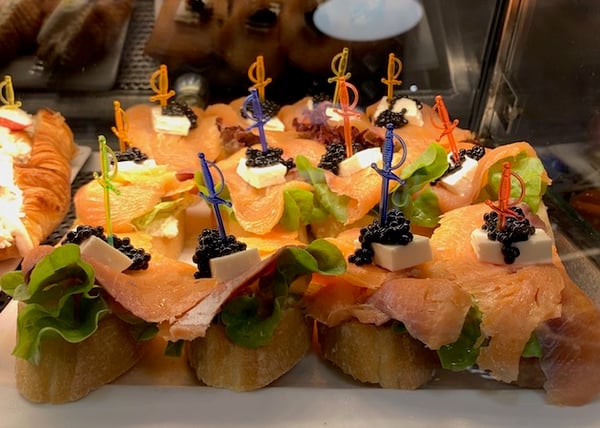 Photo: Basque Pintxos come in all shapes, sizes, flavors and textures. Every region in Spain has its own delicacies and specialities. Gastronomy is a huge part of being Spanish.
Mikel is just one example of how Spanish people love their cuisine – and they really love to share it. They also like to talk (and talk) about it, so you probably won't need to get this ball rolling. But do ask questions like these:
What dishes can you prepare for us?
What are your favorite tapas (or pinxtos)? Could we make some?
What are the specialities in your region? Which are your favorites? Why?
Can you create a menu for a typical day and fix it for us?
What do you usually eat for dessert?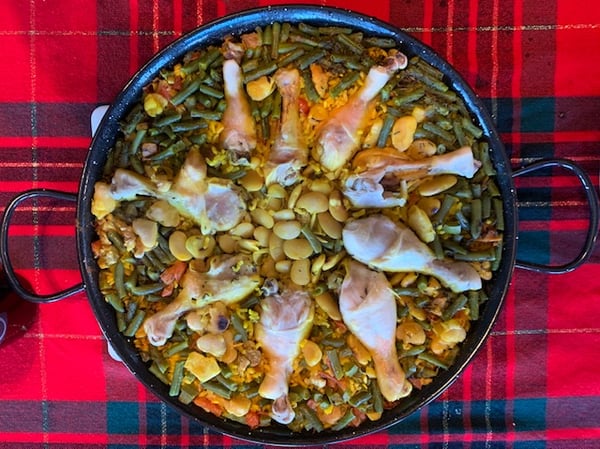 Photo: There are so many ways to make a Spanish paella. Each family has their own recipe.
So, take full advantage of this Spanish love for food. Expand your horizons. Try everything. Get new recipes. But don't just taste it: talk about what you're eating, and not just in terms of nutrition, but in terms of flavors, textures and pure pleasure. That's very Spanish.
2. Live with a Mediterranean Diet Expert
Are you interested in the world-famous, healthy Mediterranean Diet? Just one more reason to host a young person from this region. Spaniards are very (very) proud of their version of this healthy diet.
Obviously the Mediterranean Diet is all about food. But it's also much more than food:
It's a lifestyle.
It's about shopping for fresh ingredients (often).
It involves cooking daily.
It promotes eating a wide variety of fresh, fermented, cured and cooked foods.
And it's also about sitting down together - with family, friends, coworkers or fellow students - to eat together, slowly, leisurely, enjoying the food and the fellowship.
If this healthy diet is inspiring you to host a student from Spain, then look for the big picture when your young Spaniard talks about food: Which foods? Which ingredients? How are they prepared? When are they eaten? How often? With what? Why? And with whom?
3. Explore Spanish Cultural Traditions
Sharing cultural traditions is a national past-time in this country. Exchange students from Spain arrive in the USA ready and raring to share not only national, but also regional traditions.
I'll never forget an international potluck in Seattle a few years ago. A Spanish couple actually brought a super-size paella pan to cook up enough chicken and rice paella for an army. And while it cooked? They started dancing their regional "Sevillanas" (below).
Spain might look small on the map, but every region proudly promotes its own history, traditions and unique sub-culture. Here are just a few examples:
Mikel has this to say, "If an American family decides to host a Spanish student, the first thing they're going to notice is how different our culture is, from our eating schedule to the way we socialize. But these cultural differences don't cause problems. In fact, it's just the opposite, we each get richer when we share our cultures."
But, what does he think American host families really love about Spanish culture? "We tend to be really open and warm. Our culture makes us accept everyone, and teaches us to have a lot of empathy for other people."
Cayetana from Madrid (below) enjoyed sharing her Spanish culture with her multicultural host family in Alabama. "My host mom was Brazilian, my host dad American, and I had a girl from Italy living with us too. The big mixture of culture was the thing I enjoyed the most. We would listen to music from each country, try food and explain our different festivals and celebrations."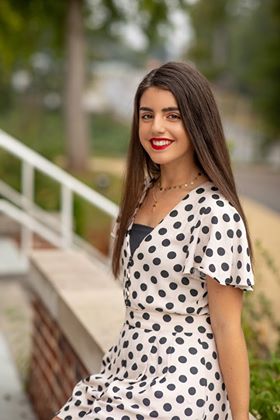 Students from Spain value cultural traditions because their own regional and national traditions are a big part of their identity.
4. Bring Spanish History to Life
Spain is literally one, big huge archeological site. Every city is a living history museum with streets and plazas full of lessons, stories, statues and more. In fact, Roman ruins are so common, I have to beg my (Spanish) kids to stop and take a look. "Again? What for? We'll be late..." Don't they realize how lucky they are?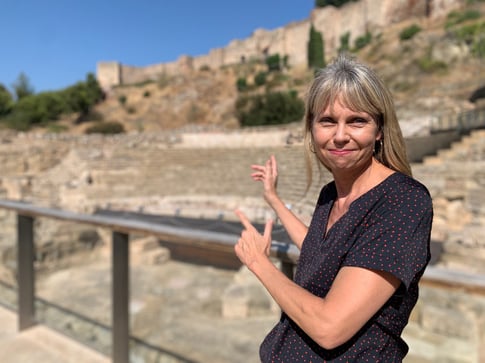 Photo: Historical remains, like these, are everywhere in Spain.
Hosting a student from Spain is an opportunity to open a teenager's eyes to the spectacular sights they've grown up with - and then explore the history together.
Try this:
Ask your student to create a list of historical monuments in her town or city.
Ask for names of archeological sites in her region.
Encourage her to enlist the help of her parents (and even grandparents).
Accept no excuses: this country is riddled with remains from every era.
Make it fun!
Could your whole family participate in an online scavenger hunt?
Who can find the most monuments?
Who can locate more Roman ruins, medieval castles and moorish fortresses?
Can the kids create a game you can all play together? Get creative!
If you love history, Spain will become your treasure trove. Your student can show you where to dig.
5. Learn How to Play Mus
Do you like playing cards? So do many Spaniards. Be sure your student brings a deck of Spanish Naipes (playing cards made in Vitoria, in the Spanish Basque Country). Then ask him to teach you how to play Mus. But watch out, family game night could get seriously competitive!
6. Watch Soccer with Spanish "Futbol" Fans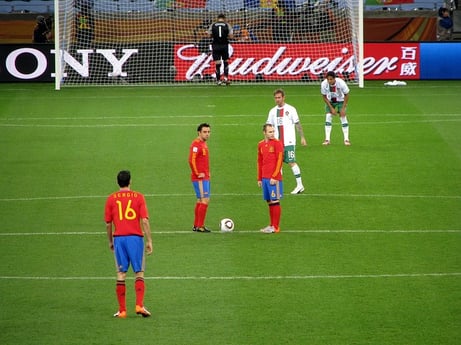 Photo by Gunther Simmermacher: Spanish World Cup 2010
If this is your reason to host, choose carefully. Be sure you get a genuine "futbol" fan on fire for their home team and who wants to introduce you to Spain's soccer teams and star players. Then prepare for the year of your life: living, breathing, watching and talking soccer all year long.
7. Add a Spanish Touch to Your Christmas
Spaniards have plenty of fun Christmas traditions to share with your family. I recommend you ask them the following questions – just to make sure they don't forget anything:
What are your favorite "villancicos" (Spanish Christmas carols)?
What do Spanish "belen" (nativity scenes) look like?

What is a nativity contest like?

What does your family do on Christmas Eve? Christmas Day?

When do you give gifts? Who gives to whom? What kinds of gifts?

How do "The Kings" (the Three Wise Men) arrive in Spain?

What kinds of gifts do the Kings usually leave in your shoes?

What is the "Kings Cake" (

Roscón de Reyes

) like?
But don't stop there. Have your student prepare some of these traditions to share with your family on each special day: Christmas Eve, Christmas Day and Kings Day.
8. Greet the New Year with Grapes
Your exchange student from Spain will teach you precisely how to greet the New Year with grapes. You will need 12 grapes per person: one for each stroke of the clock at midnight.
Then, don't miss Spain's midnight New Year's Eve celebration live online. This will take you and your family to the very center of Madrid, to the Puerto del Sol, to watch the clock and the crowds.
Did you remove any/all seeds from your grapes? Now go: one per stroke (but careful not to choke). Finish all your grapes by the last gong – if you want good luck for the New Year.
9. See Your Life from a Spanish Point of View
"We loved having Carmen from Madrid," says host mom Lucy Beighle. "We live in Missoula, Montana, a small, rural, pretty homogeneous town – I wanted to expose my kids to another culture." The goal was to see their everyday life from Carmen's Spanish perspective...
Photo: Allison Beighle, Carmen from Madrid, Calvin Beighle and Oliver Beck in 2017 when Carmen returned to visit her host family for a month.
"It was so fun seeing things through Carmen's eyes:
The homecoming parade (they just throw candy at you? And T-shirts? Why?)
The fact I apparently own five different gadgets that all juice lemons (in Spain, she said, all tools have to be multipurpose as kitchens are smaller; so you'd never have a gadget that only does one thing - let alone five of them!)
Our sometimes bizarre laws, especially regarding guns"
"It was fascinating to hear her POV on things we sometimes take for granted. And it was great for my kids to hear that the customs we have are not the only way to do things."
Lucy herself had been an exchange student in Spain in college. "I absolutely loved it," she recalls. "Ever since then it had always been in the back of my mind that I'd want to reciprocate. Back then, my children were 11 and 13, attended a Spanish immersion school and I thought it would be a fantastic way for them (and me) to practice Spanish at home."
Would she do it again? Yes! "I would recommend hosting a foreign exchange student to any family," says Lucy. "It was a fantastic experience, and one I would definitely consider doing again."
10. Participate in a Spanish Tertulia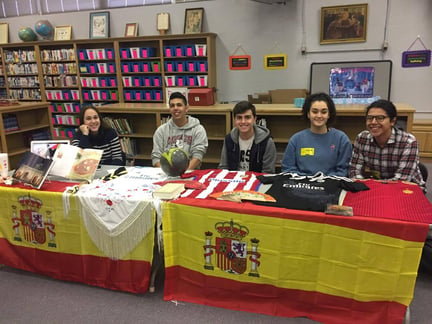 Do you love a lively debate? Then, you've got another reason to host a Spaniard.
There's a tradition in Spain called a "tertulia" where people sit together to discuss and debate just about anything under the Spanish sun. This can happen in bars and cafés, but it also takes place on radio talk shows – and at big family lunches. A Spanish tertulia ropes in anyone willing to swap opinions, and even interrupt each other (just a bit) as they jump from one subject to another. The livelier the discussion, the better.
If you want to see this in action, just bring up controversial subjects and wave them like red capes in a bullring:
Speaking of bullrings: is your student for or against bullfighting? Why?
What about the monarchy in Spain? For or against? Why?
Should Catalonia become independent? Why or why not?
Is a full, four-week annual vacation really necessary to be happy? Why?
Why does Spain have a public healthcare system?
Which is better, US or Spanish/Mediterranean cuisine? Why?
Tertulias are a national past-time in Spain, so enjoy the spectacle, take nothing personally, but do speak your mind kindly, of course. It's all in good fun, more like a soccer match than a bullfight (fortunately).
11. Bring Mediterranean Family Values into Your Home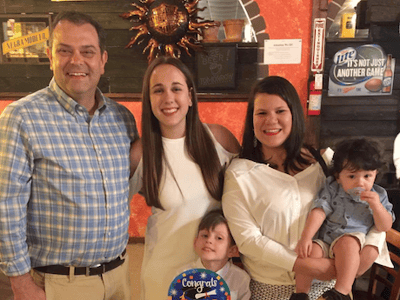 Photo: Ana Colburn and family with Spanish exchange student, Cristina (center), from Almeria.
You can't see cultural values. Or can you?
In Spain, family is sacred, the top, number one cultural value. And you can see it, feel it, and even hear it in the tender tones they use to speak words of praise and adoration for their family members.
"We really do LOVE our Spanish students," says host mom Ana Colburn. "Spanish students are family-oriented. They are eager to spend time socializing with their host families. And the BEST part: their family (in Spain) will also become your family!"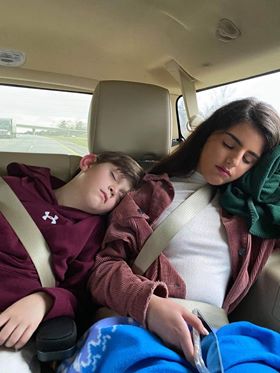 Photo: Just like Cristina from Almeria, Cayetana from Madrid also fit right into the Colburn family.
"I have hosted two students from Spain and worked with dozens. Their parents are usually very involved and show their gratitude to you very often! We loved when Cristina's parents visited us and cannot wait to visit them next year!"
Ana is also an ICES exchange coordinator and she loves placing students from Spain with her team of local host families. "I think Spanish students are great for a family hosting for the first time as they are so family oriented and adaptable! The cultural differences are fun, but they are not, for the most part, shocking to American families. Hygiene "standards" and teenage behavior is similar for the most part."
12. Learn Spanish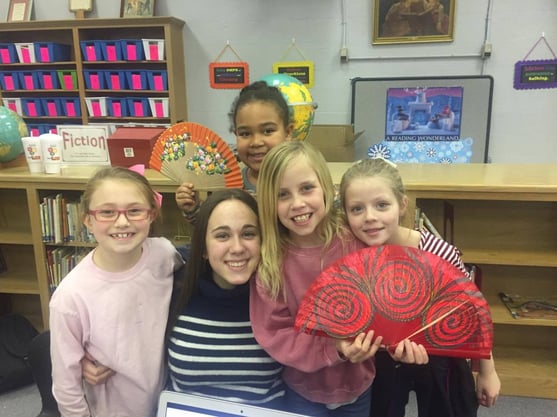 One of the reasons Ana Colburn hosted was precisely for the language. "There are more Spanish speakers in America than in Spain. I want my kids to learn Spanish! If you or your kids want to learn Spanish, hosting would give you someone to help you acquire the language much faster!"
But, wait! Kids from Spain need to focus on their English.
Ana's got that covered. "They are here to speak English," she agrees. "But they can help your child through a 15 minute Spanish lesson every other day and teach them through songs and other fun activities.
An excellent idea! Ask them to start with simple songs from their childhood (like "Cinco Lobitos", "El Patio de mi Casa" and "Al Corro de la Patata" ) and then progress to simple stories.
For more ideas, see our post "How to Master a Language the Fun, Fascinating Way".
13. Explore the Spanish Education System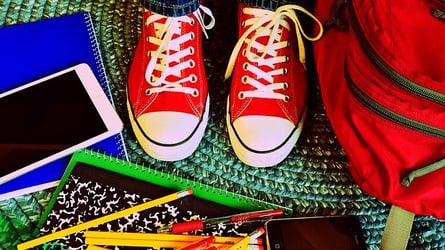 If you're interested in education, you can learn a lot about Spain's education system by living with an expert. They will love comparing school in the USA with their experience studying in Spain.
Host families notice their Spanish teenager's attitude toward school. "They stay on top of school work since it counts," says host mom/coordinator Reena Teeny. And it does count. The Spanish Education Ministry requires students abroad to take several serious subjects and then pass every single one in order to get credit when they get back to Spain.
"Spanish students do well in school," notes host mom/coordinator Ana. "They are used to rigorous academic programs and usually make really good grades in America. I have never had to worry about my Spanish students' academic performance."
You might be surprised by your Spanish student's answers to these questions:
What subjects did you take last year in Spain? Who chose them for you?
How many hours do you typically spend on homework?
How much memorization do you have to do?
What kinds of things do you memorize?
How is the teaching in Spain different from in the US?
How is school different in the US?
Many teens from Spain quickly assume that US school is easy simply because there's less homework and memorization. These kids can benefit from making a list of all kinds of things they are learning in the USA: how to research, write, experiment, think critically, work in groups, give speeches or presentations… Many Spanish schools treat these skills as if they were frills.
14. Make Your Life (Even More) Fun
The culture of Spain is gregarious, fun-loving, even adventurous – Spanish people love to sign up for everything. This does not mean that every single individual Spaniard is an extrovert, but it does mean that even introverts are socialized to make a huge effort to join in and have fun.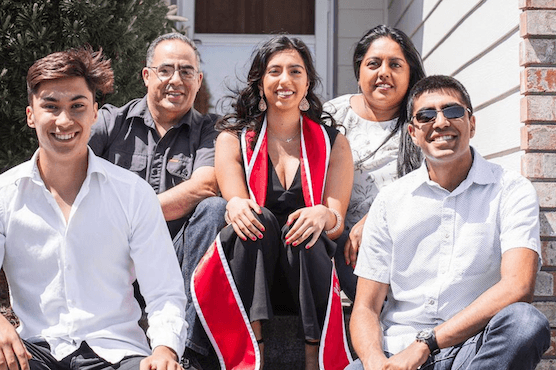 Photo: Mikel from Spain (far left) loved living with Reena Teeny and her family in Oregon.
Exchange coordinator Reena Teeny loves placing kids from Spain with US host families. "Spanish kids say 'yes' to opportunities: cooking, games, travels, outings. They love making friends. They get involved with school activities. They love family time and extended family time with grandparents, cousins, aunts and uncles."
This year Reena's family hosted Mikel from Madrid. "We had an amazing time with him. The year was wonderful. The pandemic only made it better in some ways. Our college kids came home in March and all the kids bonded."
From his home back in Spain, Mikel agrees, "I think my host family appreciated the fact that we Spanish people are open to new situations. We're really talkative and ready for adventure. We are known for always being happy and trying to have fun."
Ana Colburn agrees, "Spanish students adjust well in America. They make friends easily and blend well with the host family... Spanish students are loving, fun, and very adaptable!
15. Gain a Friend – and Family – in Spain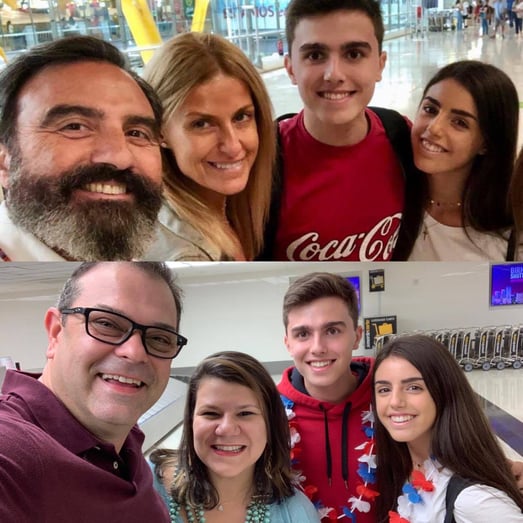 Photo: Cayetana and Alvaro are saying good bye to their Spanish family (above) and then hello to Cayetana's American family (below). Alvaro continued on his journey after a short visit.
Wouldn't you love to have a friend waiting for you in Spain?
When I studied in Spain, my program director explained, "Spanish people have a very tight circle of family and friends. It's very hard to break in, but once you do - you're in for life." And it's true: Spaniards tend to be fiercely loyal to their friends.
But how do you break into that tight circle to make a Spanish friend?
Hosting an exchange student is a wonderful way to make friends in Spain.
Your student needs a loving family in the USA.
Your students' parents desperately want their child to be safe and supported.
It's the perfect chance to cultivate a truly special kind of friendship.
And that brings us to the best part: bonding with an entire family in Spain.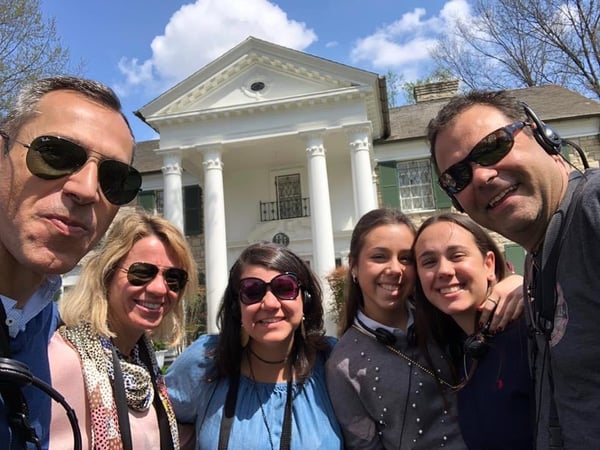 Photo: Ana Colburn and her family enjoyed a visit from Cristina's Spanish family.
Ana Colburn and her family were thrilled when Cristina's parents visited them in Alabama. Now it's their turn. They're planning to visit Cristina and her family in Spain next year. They'll surely find the entire Spanish family ready and waiting.
Waiting for what? To roll out the red carpet!
In Spain, hosts love to accompany their guests through an elaborate check-list of local sights, sounds, flavors and more. And this is what awaits you too, should you one day visit your student – and family – in Spain.
But, now, it's your turn:
Which region of Spain would you love to learn more about?
Leave us a comment below. We would love to hear from you!
Ready to learn more? We'd love to talk with you about hosting an exchange student and share profiles of available students!