We are pleased to introduce this year's scholarship winners and share their winning essays. Today's youth are tomorrow's leaders, and we increasingly need people who know how to lead with a global perspective. Part of our goal at ICES is to promote and reward a cross-cultural perspective through our scholarship program. Providing college funds to globally-minded teens is just one more way ICES is working toward a brighter future.
The essay topic for this year's scholarship is:
How can we build cultural bridges and positive relationships with people who think or believe differently than we do?
We are proud of and grateful for every student who took the time to share their thoughts with us on this important topic. Please join us in congratulating the winners of the 2021 ICES Bridging Cultures Scholarship.
First Place - $3000 Scholarship Recipient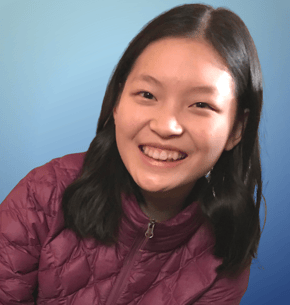 Lillian Yang, Anchorage, Alaska
Lillian is a 10th grader and is excited to explore a wide variety of her interests. She is currently thinking about majoring in Public Policy Analysis or Economics with a minor in Gender Studies or Music. Her passions outside of school include poetry and piano, which she hopes to continue interweaving throughout her career. In the future, she hopes to enter the business or law field to advocate for the interests of diverse communities and women.
Palettes of solid paints. Lines on a canvas. Pieces of an existing world.
Among the greatest challenges we face in modern history is the building of cultural bridges and positive relationships between diverse peoples. Without these connections, like brushes on a painting, we leave our world in a disjointed state—where different values, traditions, and languages lay next to each other, unable to blend into a masterpiece. However, this issue is not permanent. By using the arts, from visual to performing, we can build greater intercultural understanding and respect, bridging the gaps between different cultural peoples. In the end, greater collaboration will take shape, ultimately forming diverse, positive relationships with potent real-world impacts.
The arts have an incredible ability to share cultures between different people. They convey emotions and values, and foster respect and understanding. The arts, themselves, require little to no language knowledge, avoiding errors and mistranslations between people that can arise from nuanced lingual terms. Simultaneously, with the technology we have today, the arts and their messages can be shared by anyone of any socioeconomic background, leaving them as a versatile and affordable vehicle for wide-spread communication. Alone, the arts have no set lines or limits, morphing and molding to the mind of the artist. This allows them to truly convey what the creator envisioned and their messages to their audience. From interpretive dance to oil paintings, the arts allow us as the viewer to step inside the creator's mind–see their point of view and their cultural society–in ways no words allow us.
It is through cross-cultural communication like those that positive relationships form. By way of the arts, these interconnections between diverse peoples catalyze collaboration with greater efficiency and effectiveness, now with divergent perspectives entwining into new ideas. In turn, positive relationships produce real-world solutions to human challenges and create new, supportive communities, such as the ones found in Anchorage and throughout Alaska.
I have been fortunate to have lived in Anchorage for 15 years, gone to the 3rd most diverse high school in the US, and seen the true effects of arts in our multicultural communities. From writing poetry about anti-Asian racism during COVID-19 to being a competitive pianist, I have always found the arts as a way for me to connect with my community members, despite our sometimes towering differences in values and beliefs. I have seen how the arts helped me create new friendships and appreciate perspectives and cultures unlike my own. That is why this past year, I have been a youth team leader spearheading Amplify Youth Voices Alaska (AYVA), a project between the State of Alaska and other youth organizations to use art to spread messages of hope and strength during the pandemic. By allowing any young Alaskans to send their art to our website, we have worked extremely hard to share joy and support among struggling, diverse youth communities by publicizing their art creations and hosting artist workshops for them to learn and develop their creative skills. I am certain our impact will only increase due to the power of using the arts for advocacy.
Ultimately, the arts are a practical and powerful communicator of intercultural understanding and respect, building the relationships and connections that aid our increasingly complex world.
Palettes of blended paints. Emptiness on canvas. Infinite colors to recreate the world.
Second Place - $2000 Scholarship Recipient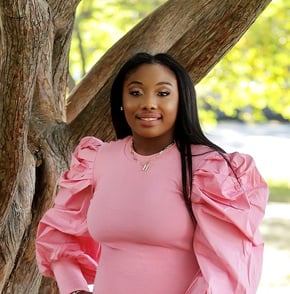 J'dyn Green, Lake St. Louis, Missouri
A senior at Timberland High School, J'dyn has committed to attend Missouri Southern State University this fall where she plans to major in Business Administration with an emphasis in marketing and advertising. She looks forward to the chance to increase her business aptitude and learn about key marketing and advertising strategies. She wants to be an asset, where she can bring new ideas to the table that unlock wealth and new opportunities for not only the business sector, but also her community.
Understanding the power of bridging cultural relationships can change the dynamics of how we function in our day-to-day lives. The ability to bridge different cultures will ultimately lead to the positive relationships we seek. There are a few things we can intentionally do to be the change we want to see. Our ability to respect differences, communicate, and remain open to learn can only help in the endeavor to change our world and create an atmosphere of love and understanding with those who think or believe differently than we do.
The first step to having healthy relationships is to build cultural bridges in communication. Understanding how to effectively communicate between the different cultures is an important task and cannot be overlooked. Sometimes language can be a barrier. We have to be intentional about the way communicate and how we receive communication from others. Communication is the very foundation needed for real change. Our ability to communicate will create a culture of understanding. I believe Steven Covey said it best when he said, "Seek first to understand, then to be understood."
To build cultural bridges, one must also have a level of empathy for others. Empathy means that I not only understand the feeling of others, but I also share in those feelings. Empathy expands beyond racial, religious, social status or ethnic background. Empathy allows you to look beyond the physical differences and relate with your heart. I believe the ability to build cultural bridges requires us to have a heart to do so.
Communication and empathy allow us to establish and build relationships. When people can see your authenticity, it's easier to build trust which helps in building relationships. It can be challenging to trust, especially in the current racial climate in the United States. It can also be somewhat uncomfortable. The reality, however, is in order to create an atmosphere of change, we must make a conscious decision to step outside of our comfort zone and immediate circle of friends. This will force us to learn, force us to understand, and force us to communicate. Opening your heart to a willingness to learn from those who think and believe differently from you is really a powerful act and one of the most important dynamics in building a real cultural bridge.
Another key in building a cultural bridge is admitting when we have implicit biases. Our past and previous environments have helped to shape who we are as individuals. Sometimes through the journey of our past, we have picked up wrong thoughts or opinions about people from other races, cultures, and religions. The ability to really combat those old thoughts are to first admit that they exist. A true cultural bridge can never really be built until truth and reality are exposed and an environment of learning is created.
In order to bridge the gap, we have to be intentional about learning from and about those who are different from us. We cannot have a one size fits all approach, because everyone is different. It is important we that we remain open minded and open to change, finding a common ground to advance our efforts. If we are able to truly build the positive relationships we seek, then bridging the cultural gap will be the inevitable result of that relationship.
Third Place - $1000 Scholarship Recipients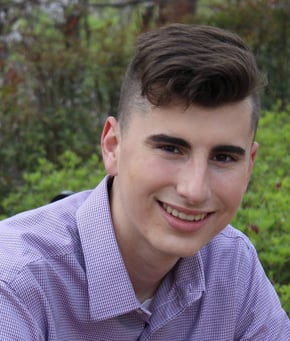 Estaban Weesner, Bellaire, Texas
Estaban is preparing to graduate high school this year, and his dream is to attend Patrick Henry College in Purcellville, Virginia. He aspires to serve the people of the United States as a Congressman. He wants to reform our education system, our tax code, our immigration policies and our national debt as well as several social issues. He believes that America needs a new generation of statesmen who can put politics and power aside to serve their constituents and unite the fractured nation.
In this modern age where technology and trade have connected the globe, the need to understand and appreciate differing perspectives, beliefs and creeds has become critical. In order to build cultural bridges with other people, several skills are required. A focus on common ground and shared values, an active search for areas of success and excellence in the other culture, and the use of empathy to understand other's viewpoints will all lead to positive relationships and mutually beneficial growth.
No matter which culture or language, relationships are always built on common ground. Whether it be listening to the same pop music, playing the same sports or taking the same electives, shared interests and experiences are the most effective way to build positive relationships, even if it is with someone with different beliefs and culture. For instance, when I lived in Australia, I began playing sports like Australian Rules Football and Cricket to associate myself with my Australian classmates and enjoy their traditions. By actively seeking opportunities to connect and share experiences related to their culture, I was able to fit in with people of different cultures.
When assimilating into a new community, it is important to adopt ideas and learn customs, especially those that are useful in other cultures. This act will signify your intent to bridge the gap and indicate your keenness in being a part of the community. In South Korea, I began learning Korean and quickly began to understand that by doing so, many of the Korean students were more accepting of me. Even by simply making an effort at adopting their language and customs, I was able to become better friends with many of my classmates, some of whom I am still friends with today.
Empathy is the keystone to truly understanding others. When you look at issues through others' perspective, you learn to respect their conclusions, especially in regards to issues that are not clear cut. When I dealt with people from other cultures, I had to forget all of my preconceptions and empathize with them to uncover what lay behind all that was lost in translation.
In conclusion, I have found that through the methods listed above, I was able to effectively span cultures and construct meaningful and lasting relationships. Although it may seem tedious and difficult to build these relationships, they will lead to the broadening of your perspective, the appreciation of other cultures and the skills necessary to converse with anyone.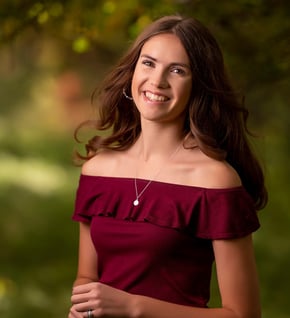 Miranda Moore, Hutchinson, Minnesota
Miranda spent her sophomore year as an exchange student to Alicante, Spain. A member of Phi Theta Kappa, she is now a second year dual enrollment student, and will graduate with an Associate's degree in Liberal Arts along with her high school diploma this spring. She plans

to attend North Central University and major in Business Administration with the goal of working in Human Resources.
"I am getting information on hosting an exchange student," my mom announced one day in July of 2017. "Wow, that sounds like fun! How does it work?" I answered. In less than a month, our family prepped our house, filled out applications, did background checks and had an interview to host a 16 year old boy from Germany. He was very different from us, practically an only child, living in a city where both of his parents worked. He came to our rural country house, into a large family, where my mom homeschools my siblings. It was the beginning of a walk across a cultural bridge that eventually led to my going on exchange to Spain for 10 months.
I believe that immersion is a great way to foster positive relationships with someone who believes differently than I do. In this way, it allows me to step back, observe, and ask questions of why others do things that aren't the same as I would do them. And because I am living in the same space as they are, I can't run away if idea exchanges become uncomfortable. We had several times when our ideas clashed with our exchange student, but that is how growth happens on both sides. We stayed open and continued having conversations about the areas of disagreement. At times, we would have to give him the space he needed to process and then we would have great times of interaction. This allowed everyone to feel like we all didn't have to believe the same way to have a relationship, we could each have differing opinions.
While he was winding down his time with our family, we were already planning for the next exchange student to come live with us and I was filling out my own application to go abroad. Arriving in Spain, I had ideas about what the culture would be like, but again nothing compares to immersion. This time, it was I that was immersed into a foreign culture. I was very shy at first and that hampered my ability to keep building the cultural bridge that I was working on. However, as I stepped back, observed, and asked questions, I became more confident and welcomed into a culture that was very different from my own.
Building cultural bridges to create positive relationships takes effort and time. Our family has hosted 3 students from Germany, Italy, and Denmark. We keep growing in our cultural knowledge. The student that was supposed to come this year, couldn't come because of the pandemic, but we still keep in touch with our former students to keep learning from them. Now that I am graduating, I will be going to college in a city with multiple cultures. I look forward to using the skills I have learned, to help continue
making new positive relationships with those I encounter. As far as my family, they will continue to host exchange students. "Mom," I ask, "where will the student come from next year?"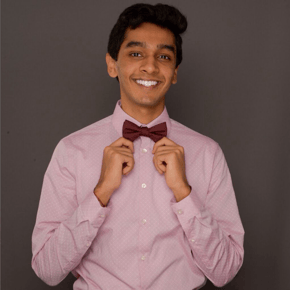 Vikas Patel, Jacksonville, Florida
After graduating from high school this spring, Vikas plans to attend Embry-Riddle Aeronautical University (Daytona Beach Campus) in the fall and major in Aerospace Engineering. His plan is to do research as he works on a Master's degree, and he hopes to apply to the NASA Astronaut Program. He aims to be working as an Aerospace Engineer or doing research after formal education.
As Atticus Finch says in To Kill a Mockingbird, "You never really understand a person until you consider things from his point of view". Whenever there may be different behaviors or thought patterns that differentiate two individuals, it is important to realize that those differences should not be obstacles in building bonds with people who are different than us. Two important and simple strategies that we can implement in bridging cultural divides include understanding the ways that others feel and being conscious of underlying similarities between people.
Being able to view the world in perspectives other than your own is an absolutely crucial tool to be able to communicate and empathize with others. This can be done by either changing your conception to fit their or by drawing parallels between their life experiences and your own. In the former technique, one must be able to identify with the circumstances that the other person is in. For example, if one is trying to build a relationship with a recent immigrant, one may try to imagine what emotions they would have if it were them that was immigrating. This form of visualization helps one understand the perceptions of others, making it easier to empathize and identify fears which the person can help subdue. By understanding these emotions, it is easier to build a very strong relationship between two different people as they can fully understand one another and are able to help each other where they may see help is needed. The second technique of drawing parallels is equally as powerful. Relating the events that are taking place in someone else's life now with one's past experiences helps one develop an understanding of the situation. Also, by remembering how one overcame past obstacles can be crucial in helping the other person avoid certain mistakes and can give them an easier method of overcoming an issue, which they can share with others. In this way, it is clear that being able to grasp the experiences of others can develop a strong relationship between people via helping others through challenges.
In addition, there are underlying similarities between people that actually connect people to a larger extent than differences can divide people. Ethically, certain morals are universal amongst people. For example, the vast majority of people would like to improve society and do less harm. Also, two people may have similar interests or similar personalities. Using these as the basis of a relationship helps the people in that relationship build cultural bridges and overcome any divides that arise through differences. However, it is important to keep in mind that not everyone "puts on their pants one leg at a time". Some people from other cultures do not wear pants at all. From this, I hope to emphasize the fact that it is important to avoid overgeneralizations. There are going to be differences between individuals, and those differences should be embraced rather than ignored. Not being aware of differences could actually hinder the formation of positive relationships in the long run.
Two vital techniques in building relationships with people from other cultures are understanding the other person's perspective and emphasizing underlying similarities between people while respectfully acknowledging and embracing differences. This development of relationships with people different from one's self add tremendous value. The other person's different past experiences and ways of thinking or behaving can be vital in adding a diverse set of opinions. This increase in perspectives plays a large role in advancing society. Hence, it becomes vital to build relationships in a way that advances a more interconnected world.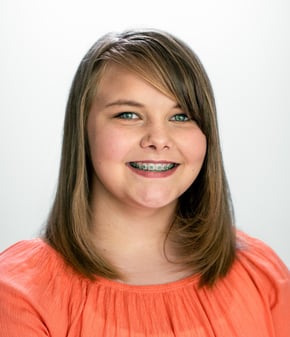 Erica Thrash, Coquille, Oregon
A sophomore, Erica participates in sports, pageantry, and volunteering with adoption and foster care. After graduating high school, she plans on attending Oregon State University and majoring in Environmental Policy and Economics. Her career aspirations are either to be an environmental scientist or a marine wildlife bio-conservationist.
To build cultural bridges and positive relationships with people who differ from you, you have to be accepting. I do not have much experience with other cultures, as I could not travel due to foster care, but there are always people who have different views all around you. To connect with somebody who may not be of the same religion, ethnicity, culture, or mindset, you have to be willing to accept and appreciate their diversity. Going through foster households, I always felt I had to mold myself to what the foster family expected of me. I tried to be the perfect vision of what they had in mind, instead of being myself. Only lately have I begun to understand that diversity is an important thing.
My experiences show me that to maintain positive relationships with others, you should recognize both peoples' similarities and differences. After being adopted and living in a household that encourages diversity, I notice the many differences and see that every difference makes the person who they are. No one is the same; we always have some differences between us, but also similarities. I felt alienated when I moved home to home because I always had to develop new relationships. I didn't know people, but it helped me recognize and see the many different ways I could relate to people.
Cultural bridges can be built through questions and trying to show people that you embrace their culture. As you learn about their culture, you can try to experience it and show them you are willing to try new things. For example, you could try foreign food from their country or cultural area. This gesture will help them understand that you appreciate them and their culture, in turn building a cultural bridge between you. Even if you don't know much about someone's culture, you can always try to learn more. Typically, it is the thought that counts.
In conclusion, building cultural bridges and positive relationships with others is something nearly everyone can do. It may take time and effort, but it is worth all the hard work. You will grow and learn throughout your relationships with others, especially if they differ from you. You may become more tolerant and understanding. You may learn to appreciate the diversity in the world, or see differences in the laces you go. Everyone has their own culture, and there is always more to learn and new things to try.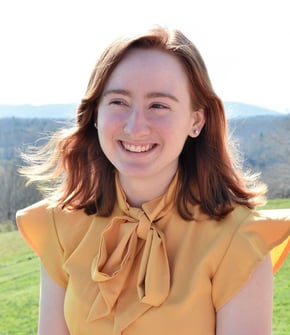 Etheny McCall, Fort Wayne, Indiana
Etheny has been involved in her church's dance ministry for the past eight years, and has volunteered as an assistant dance teacher. After graduating with an honors diploma this spring, her fall plans are to attend Cedarville University as a Professional Writing and Information Design major in hopes of becoming a paralegal or working alongside a non-profit organization.
It was a few weeks before the start of my sophomore year, and in preparation my family went out to grab some groceries with our newfound exchange student. On our way to one of the back isles, she made a loud proclamation pointing out the large amount of "rubbers" that were all piled together in a bin. Now, she had been taught British English, and so when my family and I explained the difference in the meaning of "rubbers" and "erasers", she had a good laugh over the little misunderstanding.
Misunderstandings happen all the time. Unfortunately, many of these misunderstandings don't end in amusing memories unlike the one my family and I experienced. Considering the vast number of differences that exist in the world among cultures, backgrounds, and basic personal experiences, some toes are bound to get stepped on whether or not it is intentional. These divisions have caused countless major issues, but they don't have to. The solution is just a considerate amount of empathy mixed with a spoonful of humility and patience.
Empathy demands the willingness to listen, a concept often and unfortunately lost in today's culture. Conflict has arisen more than ever, and empathy appears to have almost died altogether, succumbing to the noise of online yelling matches or failed conversations directed at closed ears. This issue calls for a total reversal of behavior. It calls for empathy. When instinct says, "I want to be right", empathy says to take a step back. When instinct says, "I don't like new ideas", empathy says to give another person the chance to express themselves. When instinct says to rush answers, to spout "truth" and to be selfish, empathy says to be patient, to listen, to care. Empathy says, "I have the willingness to treasure you and celebrate your differences." Empathy begins when it is recognized that our own personal thoughts are not the only ones that exist in the world. Empathy goes so far to say that those differences are good--beautiful even. At the end of the day, empathy is an intimate form of humility.
Empathy has especially proven to be powerful in the younger generations. Today's youth have exhibited some of the strongest convictions that have completely revolutionized social norms as we know them. Their youth provides them the chance to use the entirety of their lives ahead of them to change the world for the better—to create a world that empathizes, a world that makes an effort to understand. But even the youth could use some support and encouragement. They could use it from people who care about change; they could use it from people like you.
These cultural barriers that stand between us do not have to divide the world but should give us all the more reason to bring it together. Diversity is an inevitability of the world that does not need to be intimidating. This intimidation needs to be addressed head on thoughtfully and gently. So, take a moment to spend time with someone different from you. If everyone had the willingness to overcome this fear and had the patience to empathize, the conflicts and yelling matches would meet their demise and instead be replaced with open minds and caring hearts.