When my oldest daughter was just two months old, my Spanish husband and I liquidated our life in Seattle and moved to Spain with just five suitcases – mostly filled with baby shower gifts. What would it be like to raise our children in a different country? Very different! Bewildering at times, but mainly enlightening and most of all: liberating!
But first, culture shock hit me between the eyes. Yes, I was a new mother and had a lot to learn, but Spanish parents seemed a bit, well, misguided. The parenting style could only be described as indulgent, and we all know what that means: spoiled rotten children. Every day my concern grew:
Why were people force-feeding their children?
How could kids possibly "turn out" okay if they never did chores at home?
Why didn't my new friend want her toddler to learn to be independent? Ever!
And what were those tiny tots doing out past midnight with their parents?
Thankfully, three daughters later, I was learning to question my "parental ethno-theories", those rock-solid beliefs about parenting that we learn as we grow up in our culture. And in the USA, this meant:
Let small babies learn to feed themselves.
Kids need chores to learn responsibility.
It's good for kids to learn to be independent!
Children need plenty of sleep.
There's more than one (right) way to parent a child
Yet, it was undeniable: generations of Spaniards had been raised in a totally different way from mine… and they were "turning out" fine! The minute I stopped resisting this fact, trying to explain it away and prove that my U.S. ways were best, I stepped into the world of cross-cultural parenting: testing out radically different ways of doing things that transformed my relationship with my kids and gave me a ton more options for solving just about any parenting problem out there. It was fantastico!
Start learning parenting secrets from around the world
Then what? Then I started researching and reading. Wow! There's a whole world of resources out there for parents like you and me who want to find out what parents in other cultures are up to! In this guide, I will introduce you to my favorite cross-cultural parenting resources and then share what I learned about parenting by hosting exchange students from diverse cultures.
Please visit our YouTube channel to subscribe and receive more great videos about how to use cultural diversity to make your life more fun - and more fascinating!
Now it's time to dive into a world of amazing resources full of parenting strategies from around the world. We'll start with my favorite documentary for globally-minded parents, continue with a list of cross-cultural books and finish with advice for gaining real life experience by bringing kids from other cultures into your home. Let's get started!
Babies, The Documentary – Explore Global Parenting Styles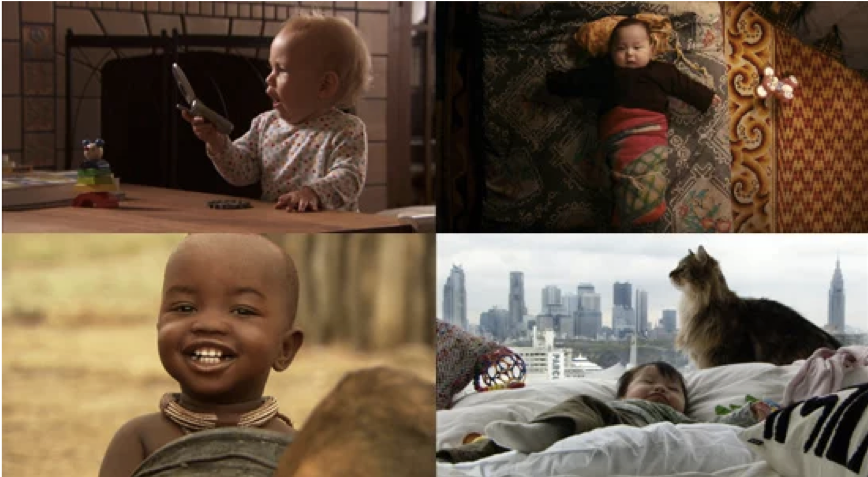 How would you like to peek inside four homes in Namibia, Japan, Mongolia and the USA to watch four babies learn and grow during their first year of life? The film Babies lets you do just that. My favorite lesson: every culture has different definitions of clean and dirty. Watch this French-made documentary and see for yourself. Spoiler alert: all four babies survive and thrive throughout the film – and most likely far beyond. Watch and wonder: what surprises you most? Which ethnotheories do they challenge? Check out the trailer for Babies.
Books abound on global parenting styles and strategies
Are you ready to dive even deeper and learn the real secrets about parenting styles and strategies from around the world? Check out these excellent reads: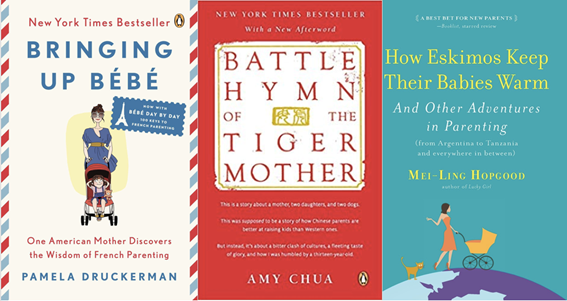 Bringing Up Bebé – Are your kids picky eaters? Would you like to educate their palates? Do you believe any child can be guided to "go gourmet"? Let this American mom from New York take you down the back alleys of France and into homes and schools to find out French solutions to so many common parenting problems. This is a very fun read that will spark new ideas for bringing up your own bebés.
How Eskimos Keep their Babies Warm – Want to know how the Chinese potty train their babies early? Curious why Aka Pygmies are the best fathers? Interested in how the Lebanese keep their families close? American journalist and mom, Mei-Ling Hopgood has done all the research for you from her post in Argentina as she raises her kids abroad. She will literally take you around the world, checking up on parents in diverse cultures to share some of the best solutions for an array of universal problems.
Battle Hymn of the Tiger Mother – Are your kids good at math, music or speaking Mandarin? Could you force them to be? Grit your teeth and prepare for culture shock! Law professor Amy Chua banned her children from going to sleepovers or playdates, watching TV, playing computer games, being in school plays, complaining about not being in school plays – and much more. Warning: this is riveting reading that could jolt you out of your comfort zone. If anything, this book will bring your deepest, most subconscious parental ethnotheories to the surface. Take a close look at them. What can you learn? (Her kids seem to have turned out very well, by the way.)
These books are up next on my list:
Hosting an Exchange Student to Experience Different Parenting Styles
I never signed up to host an exchange student to learn about parenting, but that's exactly what happened. Was Anna from Austria just a meticulous person – or had her parents worked some kind of magic? The more I observed, it was clear that she had been very carefully trained to keep everything in order as she moved through the house. I took notes: my kids were small, but whatever her mother was doing, I wanted to do. And I did!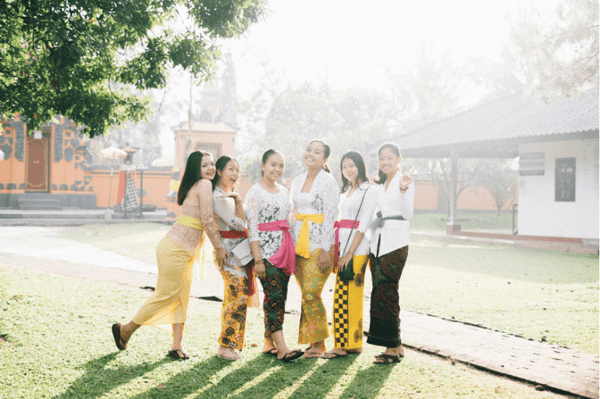 But surely the biggest eye-opener was my Thai student. She was gentle, kind and very generous about sharing insights from her culture. My favorite conversation starter? "What would your mother do in this situation?" Is it really possible that parents in Thailand are thrilled to see their kids spend lots of time on technology? "It's a positive thing," she explained, a sign of progress. Should I consider relaxing a tad? Maybe.
Hosting exchange students is the next best thing to actually living abroad. On one hand, you get to parent a child from another culture and see how they react. On the other hand, you watch your cross-cultural parenting books come to life right before your eyes. Watch your German student being "so German" (yes, there is a such thing as useful "cultural generalizations") and check the Achtung Baby book to see if you can figure out why, and how his parents instilled certain cultural values and ideas in his head. But more importantly, ask: what's my takeaway here?
Fill Your Box with Parenting Tools from Around the World
The goal, after all, is to add new parenting strategies to your toolbox. All humans around the world face the same universal problems: how to be healthy, how to prepare our young for the future, how to be happy – and how to have happy kids… Our own culture provides us with a range of possible answers, while other cultures do the same. Thanks to globalization, now we can swap solutions with parents from the farthest corners of the earth. How exciting is that?
So, time to dive in and see what's out there! If your mind is open to new ideas, the only limit is your curiosity.
Host a Foreign Exchange Student
Up your parenting game by seeing how another culture approaches raising teens. Invite an international teen to join your family for a few weeks or months, and watch the fun and learning begin.
We'll help you find a student who's a good match for your family so you can enjoy what you have in common while learning about your cultural differences--including parenting differences. Hosting is an excellent way to enrich your family life, expand your parenting toolbox, and have some fun!