What is a Spanish Omelette? It's not like an omelette in the USA. So, here's a hint: it's called "tortilla de patata" or "potato tortilla" in Spanish. However, it's nothing like the Mexican flour or corn tortillas we know in the USA. So, what on earth is it?
Imagine some not-so-brown hash browns and raw eggs, all rolled together with chopped, sauteed onions (golden brown) and salt. Put that all into a frypan, together - and you're getting close!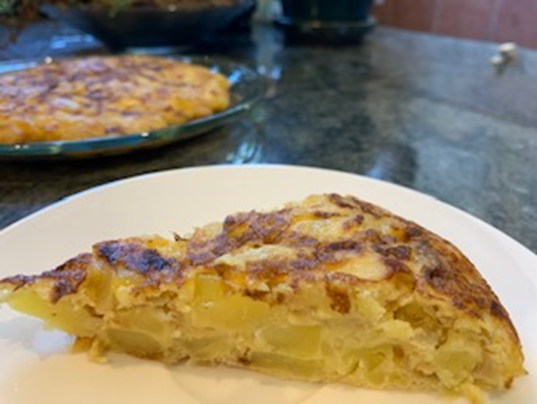 When I moved to Spain 25 years ago, I fell in love with Spain's number one comfort food: tortilla de patata. This is what you eat at grandma's house, but it's also served in every bar, restaurante and even at fancy parties in its appetizer form. Everywhere I went, I could always count on this trusty, tasty little dish for breakfast, lunch, dinner - or a satisfying snack.
In this post you will learn how my Spanish in-laws make a Spanish "tortilla de patata", you'll get my own Spanish omelette recipe, and you'll meet a few chefs - both native and novice - who will share their experience making (and eating) Spain's favorite "omelette".
But first let's take a "tortilla de patata tour" of Spanish cuisine to see how this versatile dish can pose as a breakfast, lunch, dinner, snack or tapa depending on how you fix it and what you serve it with. And don't be surprised if you learn a lot about Spanish culture along the way.
The Tortilla de Patata Tour of Spanish Cuisine
Breakfast: how do we eat tortilla de patata for breakfast in Spain?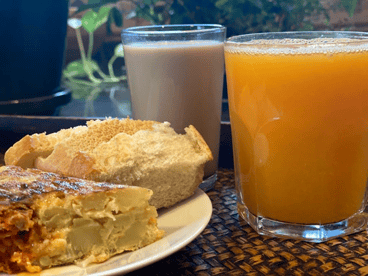 Spanish omelette makes a great breakfast alone (hot or cold) with a piece of baguette, or even in a sandwich (your choice of bread). Add a coffee and a glass of orange juice and you've got your own complete, balanced, breakfast - Spanish style.
In reality, most people in Spain have a "liquid breakfast" first thing in the morning: coffee for adults and a chocolate/cereal drink (Cola Cao) made with warm milk for kids. Then, between 10-11:00 a.m. the entire country grinds to a halt as everyone stops for a proper breakfast. And that is when you might opt for a slice of tortilla de patata (with fresh bread - that's sacred).
Lunch: do we ever eat Spanish omelette for lunch in Spain?
Tortilla is not a typical lunch food in Spain. We like to sit down together (the together part is so important) with family or classmates or coworkers at around 2:00 p.m. and enjoy a three-course meal (yes, even on weekdays, if possible - wine or beer included, for adults).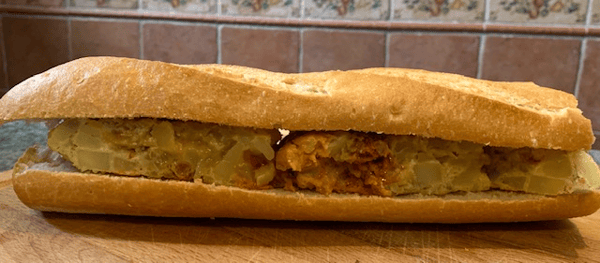 Exceptions? If you're on the road or taking a hike or having a picnic, then yes: grab a whole baguette, slice it open horizontally, and fill it with chunky slices of Spanish omelette. Grab a piece of fruit or a yogurt and a drink. You're all set for lunch on the go!
Dinner: how is Spain's favorite tortilla served for dinner?
Here, the Spanish omelette is the star of the show! At home you might grill up some chorizo and a couple of green peppers to go with your freshly-made tortilla de patata. In Madrid, my Spanish in-laws always have a fresh green salad with that. But, that is at home. Here are some more ways to get creative with your Spanish omelette.
If you go out, look for fancy tortilla de patata tapas - especially all across the north of Spain, in the Spanish Basque Country and in Catalonia (home to Barcelona): tortillas made with green pepper, red pepper, mushrooms or a combination, tortillas sliced horizontally as if they were layer cakes and filled with thin sheets of smoked salmon or baked ham, and then tiny squares of tortilla topped with a dollop of mayonnaise and a slice of green olive with anchovy. The best part: you can pick and choose and try a few.
Special occasions: what can tortilla de patata do for a party?
A Spanish omelette makes great finger food for any special occasion. Just cut it into small squares and stick a toothpick into each piece. If you want to get fancy add pickled veggies, olives, smoked salmon or anchovies to some of the toothpicks, and you are ready to party. But, don't forget the bread or crackers ("picotas", in Spain) to go with it.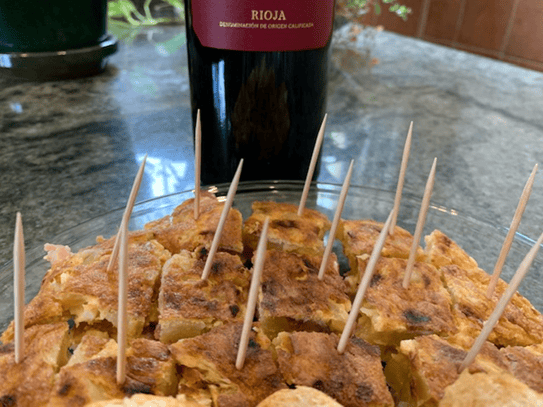 Spanish omelette heaven is awaiting you in Spain - or in your own kitchen. Stop and think: what flavors do you think would go well with a tortilla de patata?
Do leave us a comment below with your ideas!
And now for the step-by-step recipe!
Spanish Omelette Recipe (Tortilla de Patata from Spain)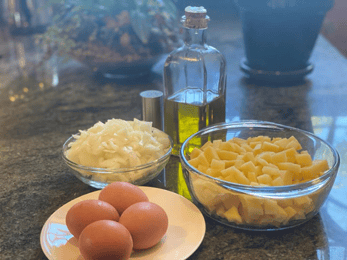 Ingredients for two thin, medium-size tortillas:
2 large potatoes - diced (around 3 cups)
1 large onion - finely chopped
4 medium eggs
Olive oil
Salt
Instructions
Prepare the ingredients.
Begin to saute the onion in olive oil (1/8th inch more or less), on medium high, add a dash of salt*, and cover.
When the onion is getting soft, sprinkle the diced potatoes over the top of the onions as a "top layer", to allow the onion to brown on the bottom while the potatoes cook on top. Turn down to medium low heat, add a dash of salt, and cover.
When the onions are starting to brown, stir the mixture, cover and cook till the potatoes are soft and a bit mushy (but still lumpy).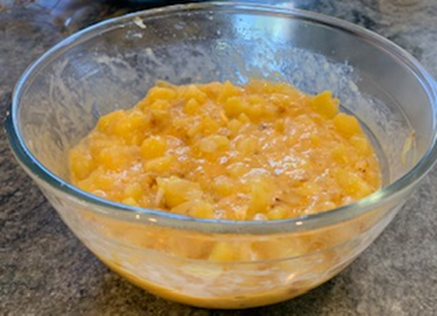 In a mixing bowl, beat the 4 eggs with a fork, then add a dash of salt and the potato-onion mixture.
Mix everything together and let it sit while the pan heats.
Heat a small fry pan on medium high. When the pan is hot, add about 1 TBSP of olive oil and then spoon in half the tortilla mixture, and spread it out evenly. Then reduce heat to medium low, and cover.
Use a plate to help you flip the tortilla and slide it back into the pan to cook the other side. You can either cook it all the way through or leave it slightly runny in the middle as they do in Spain**.
*This is a flexible recipe, so I prefer salting each ingredient as I go, according to its quantity.
**Consuming raw or undercooked eggs may increase your risk of foodborne illness.
This is just the basic recipe. Keep reading for tips, tricks, serving ideas and best of all: how to innovate and create your own favorite Spanish omelette recipes.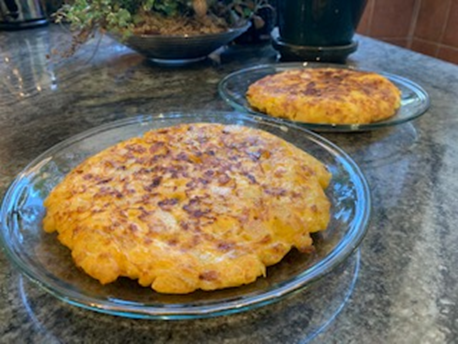 Spanish Tortilla de Patata Secrets
The first trick my Spanish mother-in-law showed me was how to use a plate to flip the tortilla over. You can see this technique in this Spanish Cooking video:
Relax! It's not as hard as it looks. Do it slowly until you get the hang of it, and if you make a mess the first time, just put everything in the pan and cook it through. Enjoy as it is - and keep trying.
The second trick the in-laws (and the whole country) taught me was to get that "cooked-on-the outside-runny-on-the-inside" effect. Now, even if you're like me, and you want your Spanish tortilla well done all the way through, do not miss this PBS video with my very favorite Spanish foodie, Jose:
Just look at his face when he tastes that runny tortilla! That is your first lesson in Spanish culture: they literally live for food.
The third trick comes from my Spanish sister-in-law who is busy and health conscious. She boils the potatoes instead of frying them. It's not quite as tasty, but it's easier, faster, healthier and - less fattening.
The fourth trick builds on the third trick: use less olive oil. Notice how much oil both Spanish chefs are using in the videos (above). Wow! I tried boiling the potatoes and wanted more flavor. That's why my recipe gets those onions going in a little oil, and then uses the layer of onions to keep the potatoes from sticking to the pan. The lid is also essential: you are using the steam to cook the potatoes while those onions are browning in the oil underneath. And it works!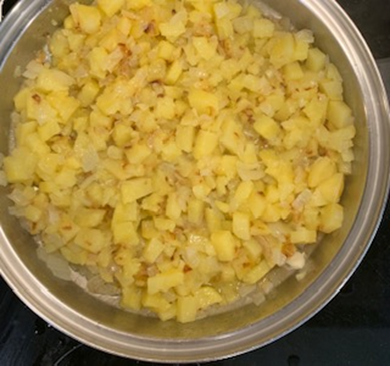 And finally, a bonus trick: I've noticed that the tastiest tortillas de patatas in Spain use finely chopped onions and potatoes. (Just check out the chef's mother in Jose's PBS video (above) to see how she's shaving the potatoes in thin slices. I prefer dicing, but those thin slices must be scrumptious too.)
---
Spanish Omelette Test Chefs
ICES decided to put this recipe to the test. Three enthusiastic test chefs (and one very helpful chef's assistant named Lucas) chopped, sauteed and flipped their way to their very own tortilla de patata creations. Read on to learn from their experience…
Spanish Omelette 1 - Meet Chef Esther from Valladolid, Spain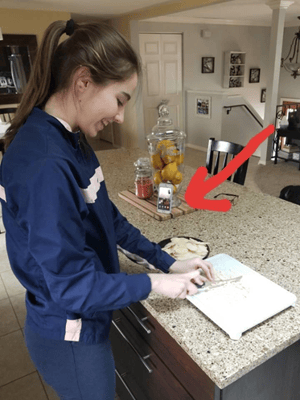 Esther, from Valladolid, Spain, made a genuine tortilla de patata for her Oregon host family in the US, with the help of her Spanish mother via video chat.
If you can't actually go to Spain to taste the tortillas, then consider hosting an exchange student from Spain to bring this favorite comfort food into your home. Esther is one of many exchange students from Spain who made a scrumptious Spanish omelette for her US host family this year.
Did Esther's tortilla de patata recipe work just as well in Oregon as it does in Spain? Definitely. The trick? Her Spanish mother connected via video chat to coach her through the process (note the red arrow pointing to "mom" in the photo of Esther making her Spanish omelette). Excellent idea.
At around 9-9:30 p.m. when families across Spain are getting dinner on the table (even on weeknights, and even later on weekends), Esther's favorite dish is… Spanish omelette.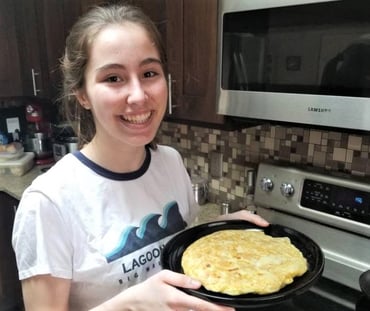 Do you want to know just how important the Spanish omelette is in Spain? Check out this video of a "tortilla de patata contest" in Alicante, and this Spanish omelette contest in Bilbao. You don't need to understand a word of Spanish to feel the excitement and see the enthusiasm.
And how do we say "bon appetit" in Spain? "¡Qué aproveche!" (pronounced "kay-ah-pro-VAY-chay"). And that's the polite thing to say whenever you see anyone eating anything at all.
Spanish Omelette 2 - Meet Chefs Hanna and Lucas from Texas
These two will delight you with their journey of creating a Spanish omelette, and they'll provide you with confidence to give it a try yourself!
Hanna is the ICES Regional Director of Texas, Arizona, and New Mexico.
Spanish Omelette 3 - Meet Chef Melanie from Michigan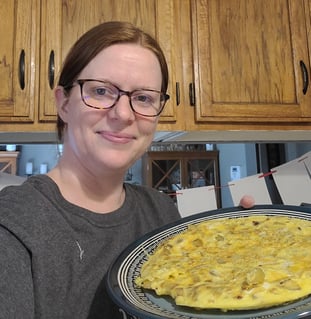 Melanie made a Spanish omelette for her family, which currently includes Bea from Brazil and Pamela from Mexico.
Melanie says, "Everyone loved it! I would give it a 5/5 and so did they. Even my student who hates onions loved it. It was easy to make, I would say a 4/5, it was a bit tricky flipping, lol."
Melanie is an ICES Regional Administrator in Michigan.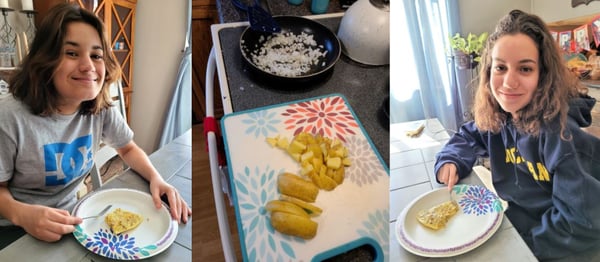 Tortilla de Patata: Get Creative - Innovate!
Have you mastered the basic Spanish omelette recipe? Then you are ready to innovate. Remember that Spain's tortilla de patata is an extremely versatile dish. It can be prepared and served differently throughout the day and on special occasions. How many versions are there? Your taste buds are the only limit!
Now it's your turn. How do you plan to get creative with this recipe?