Jami Dauphin once thought her life was rather conventional - even a tad boring. It was nothing special, to be sure. Or was it?
One day, something caught her eye on Facebook: youth exchange? Host an exchange student? Jami had always wanted to be a foreign exchange student. It was too late for that - but, was it too late to host?
"How would I feel if I went to live with an old lady who didn't have any kids to hang around with?" Her three daughters were grown and gone, but Jami also worried about her location: rural Texas. "I live in the middle of nowhere. What do I have to offer?"
Little did Jami imagine that the everyday things she took for granted - stopping at a 7-Eleven, sipping a Slurpee, or tasting real waffles from The Waffle House - would be fascinating to the young students from China, South Korea and Brazil she would host... They would love living with her.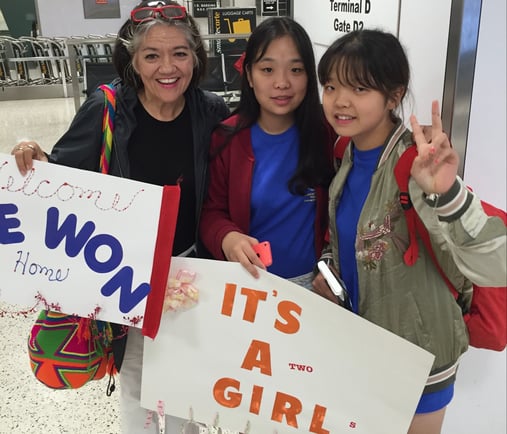 "I was always looking for things they'd never done. That's why they come here," Jami explains. In fact, this host mom and her students embarked on a quest for "firsts" - first time experiences doing "the little things" we take for granted in the USA...
What Could Possibly Be Fun?
It was time for the Texas State Fair, but Jami balked at the idea of taking her first two students to such an "unsophisticated" event. Qing (China) and Hey Won (South Korea) were both city girls who had seen and done so many exciting things already. "Why would they want to see a country fair?" She thought. But, then again, why not?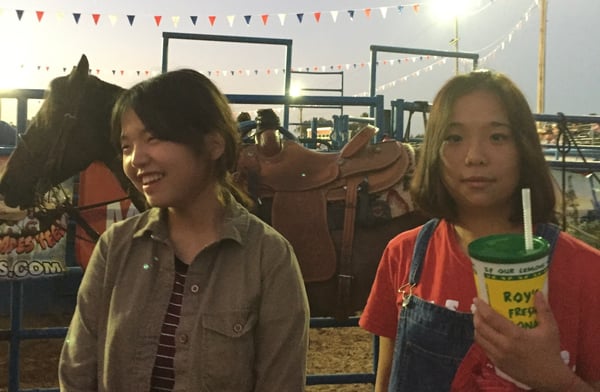 It's the first time either girl had seen anything like the Texas State Fair: the livestock exhibits, the wild west stagecoach, the farmers' stands, the horses and the rodeos. And what about those great big drinks? You could actually walk around drinking as you go? Seriously? Unbelievable!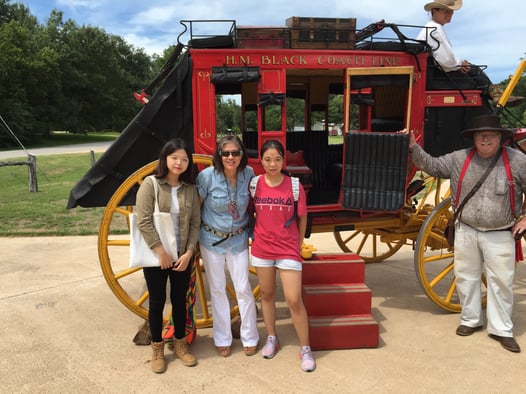 Suddenly Jami saw her everyday life differently. "I decided to be what I am, and not what I'm not," Jami recalls. And sure enough: everyday life in Texas turned out to be plenty of fun. "They had never ridden on a tractor or seen rice being farmed."
Yes, there were some "big things" like trips to Disney and San Francisco. But it was the little things that stood out - like dressing up for Halloween or visiting a pumpkin patch (for the very first time, of course).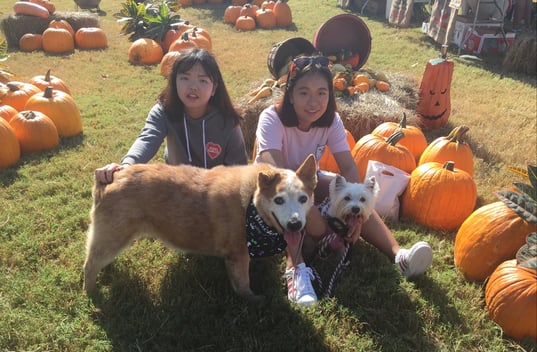 To Jami's surprise, hosting was not just a good idea--it was a great idea. Even at her age, even in a rural area, and even without kids at home. In fact, it was such a wonderful idea, she signed up again.
How Could Such Little Things Be SO Fun?
Soon Ana Julia was on her way from Brazil. This would be a radically different experience. She was a scholarship student from a "no-privilege" background… from an economically challenged area. Excellent English landed her a once-in-a-lifetime opportunity to spend a semester in the USA.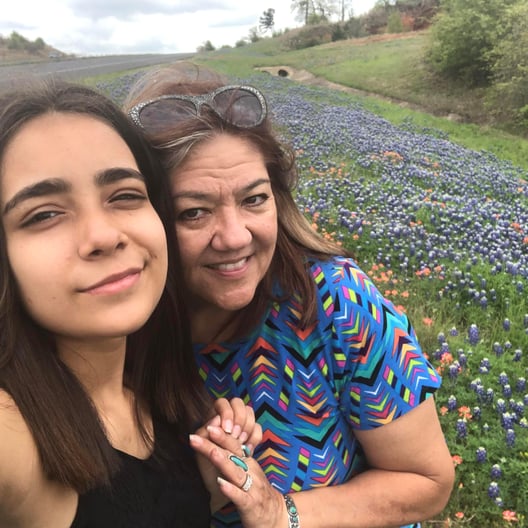 "She had never flown a kite, never went fishing before, never ridden a horse - or a bike!" Jami was geared up for adventure like never before. First they flew a kite, then they went fishing, then…"Well, the bike wasn't successful," Jami admits. But that didn't stop them from tracking down a ferris wheel - another big, exciting first for Ana Julia!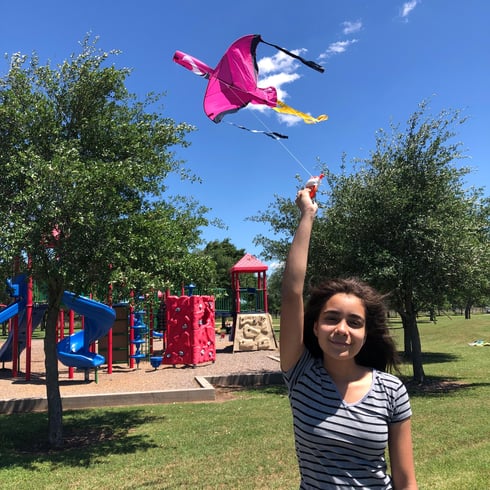 This eager, exuberant Brazilian girl had been reading about the USA for years. "So, what else have you read about?" Jami would ask. But where, pray tell, do foreigners read about 7-Eleven and Slurpees? And such easy wishes to fulfil!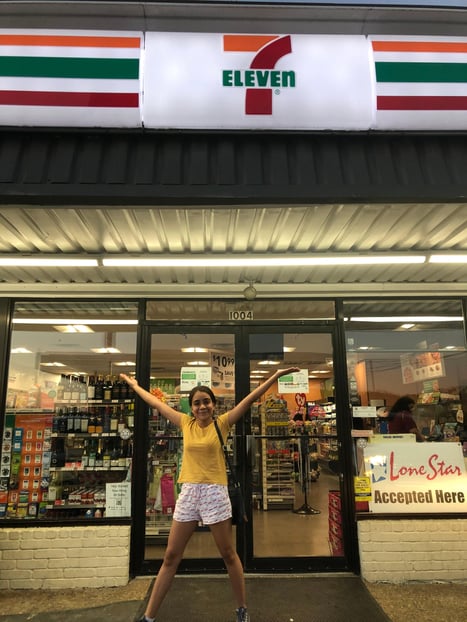 Ana Julia was in love - with everything, the Waffle House and world famous Texas Whataburgers included. "I let her choose pictures for a blanket I was making for her," Jami remembers, "Would you believe she included photos of the Texas flag and a Whataburger?"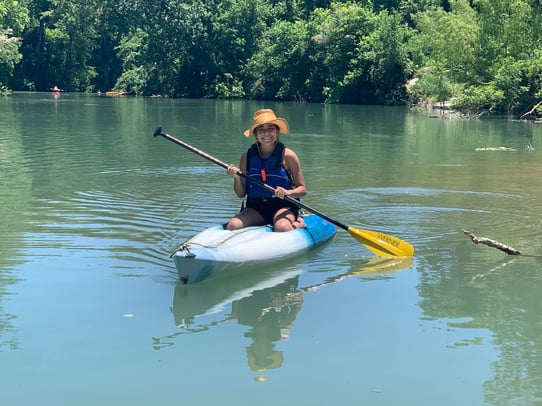 Then there was Easter. "She had never hunted for Easter eggs. We dyed eggs and I hid them while she was at school." Much to Jami's dismay, Ana Julia couldn't find every last egg, and host mom could not remember where she'd hid them all. "You can hide Easter eggs for yourself!" Ana teased her.
Host Mom Firsts
Hosting was a first for Jami. Her dream finally came true. For the first time ever, she peered through Korean eyes, Chinese eyes, Brazilian eyes, and saw her life in a new light. "This has really changed me," she reflects. "All three of them did."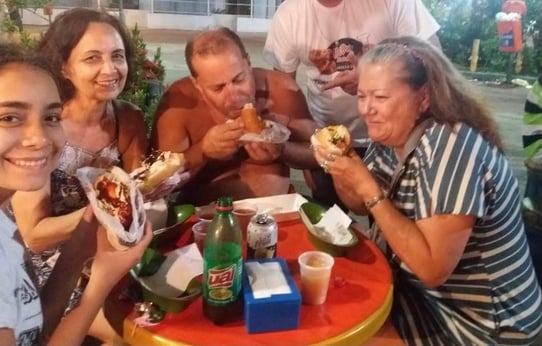 But there was another first for Jami: a trip to Brazil to meet Ana Julia's parents and visit her home. "We had talked a lot about the difference between here and there. But when I went to her house and saw only four pans and her mom making such great food… only four plates. I learned that we take what we have for granted."
Looking back, the girls had a great time in the USA, living with an older, single host mom. But Jami has it clear, "I was the lucky one. It's easy for a single person to just stay home and do nothing. But when you have these young people back in your life, you get out of your comfort zone and realize there are so many great things to do!"