From my ICES lookout post in Europe, I'm scanning the news: what's happening with student exchange? Is anyone going to don a mask and fly to the US this year?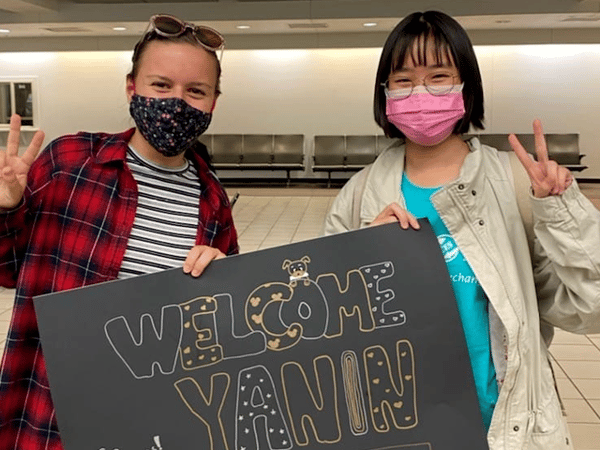 Photo: One host family will have double the fun this year with Tina (right) from Czech Republic and Yanin from Thailand living together as "host sisters".
And the answer is…yes! Students from around the world are all packed up and ready to go. And masked host families with smiling eyes and open arms are waiting for them at airports around the country.
How can this be?
On the dark side, no one really knows what to expect this year.
What will school be like?
Will there be sports?
What about clubs like drama, chess, speech and debate?
What about making new friends?
What will life be like?
On the bright side... no one really knows what to expect this year. And that is very good news! In my experience, the happiest exchange students - and host families - have the least expectations. They are truly open to whatever happens. No demands. No disappointments. Just gratitude, happiness and going with the flow.
That's the big picture, but even the most open and adventurous student has a reason - or several - for getting on that plane. We've checked in with several "pandemic participants" to ask: why? Why did you decide to do this in the middle of a pandemic?
Let's hear from the students themselves.
Malte from Germany: Looking for Adventure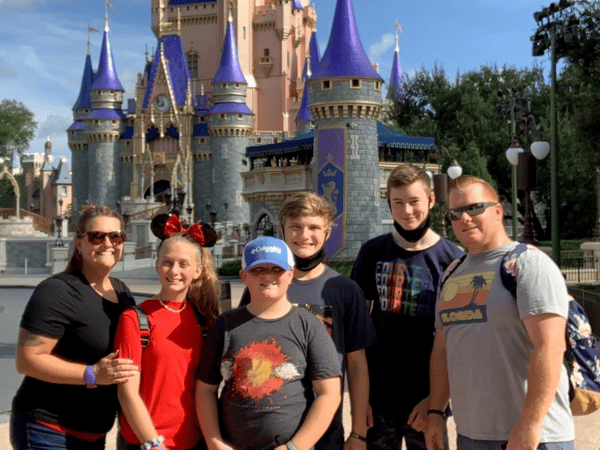 Host mom Ashley Minchey's advice for families wishing to host during the pandemic? "Just do it! As I tell everyone I talk to about hosting: be yourself and love them as you would your own child." Malte from Germany is second from the right.
Why did Malte decide to leave Germany to spend a semester in Florida? "I decided to go because it is such a great chance to meet all these people and the new culture, that even a pandemic can't hold me back from such an adventure."
And he didn't have to wait long for the adventure to begin. "So far so good!" says Malte's host mom Ashley Minchey. "He just had his first trip to Magic Kingdom this past Sunday and he had a blast. We have three children of our own and he has already bonded with them!"
"My experience has been great so far," Malte agrees. "My host family is great. I've met many amazing people and I get to do everything even though there is a pandemic."
Ashley didn't think twice about hosting during a pandemic. "We are hosting this year simply because why not? We picked our student back in December and he is our third student we have hosted! We didn't even think about not hosting, it just seems like second nature to us."
Both Ashely and Malte understand these are uncertain times. "There is a chance that sports like football or soccer are being canceled," Malte admits, but he's still optimistic. "I think I'm going to do everything as it was before the pandemic just with social distancing and all the pandemic rules."
"I believe the creativity of keeping busy due to regular activities not fully being available is going to be our biggest challenge. Our family is very active in sports, however since the pandemic things have cancelled and/or slowed down," says Ashley, but that's not going to stop this host mom!
"Luckily we live close to Disney, beaches, and rivers so that is planned to take up a lot of our free time. I'm a big planner so our weekends are packed for at least the next three months!"
Ashley's only regret? "Unfortunately, our sweet student is only here for five months. This is our first time with a semester student - so I am trying to shove a whole year's worth of adventure into a small amount of time to give him his best experience ever."
Get ready, Malte: there will be no shortage of adventure here!
Ilaria from Italy: Making Her Dream Come True
Ilaria is from Favara, in Sicily. While Italy was struggling through the pandemic this spring, this student was dreaming about her upcoming year in the USA.
"I decided to go to the states even though there's a pandemic because this is my Dream and I can't just think that I won't have my dream anymore. It's an experience that happens just once in a lifetime."
Ilaria is packing her bags and ready to board her flight to Oregon.
Ilaria is both cautious and courageous. "Honestly I'm a little bit scared of traveling right now but if we respect the rules and precautions everything will be fine."
And she is realistic too. "The pandemic will affect my experience for sure. Maybe I can't stay too close to people or I can't do something that American people usually do." But nothing is going to stop her from pursuing her dream of living with a family in the USA now, while she's still young enough to do it.
Fortunately Ilaria already knows for sure that she's going to have a great year...
"I'm a positive person," she explains. "I will try everything to make this experience great. I will accept the situation. There are many things that I won't be able to do, but there are many things that I will be able to do. I'll enjoy every moment."
And she has something to say to her fellow students. "To the other exchange students I want to say that we can do it. We are living in a unique time and having a unique experience."
Welcome to Oregon, Ilaria! We can't wait to hear from you next June.
Tina from Czech Republic: Creating Happiness Here
Could Tina have stayed home in the Czech Republic?
That was never an option in her mind. "I've wanted to come to the USA since I was 13. It was my dream to come here and I was really looking forward to my exchange year."
Tina had worked her way through mountains of paperwork: the application, medical forms, vaccine cards, visa requirements... "I worked hard to get all the documents and requirements done," she recalls. "I didn't want to give up midway."
When all was said and done, she looked around her hometown. Was it really that different from her destination in the USA? Why stay home when she could live this historic time in a completely different setting, learning and growing all the time?
Now she's settled in Oklahoma and loving her new life. "I have been here for nearly three weeks, and everything is awesome! My host family is gradually introducing me to new food, shops and places. And my school starts next week, which is very exciting. I can't wait for new experiences that are coming."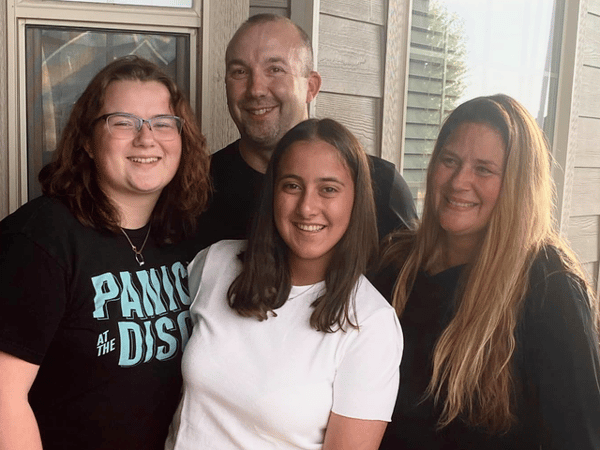 But she knows the world has changed. "The pandemic will definitely affect my experience, especially with (social distancing at) school. But that doesn't mean I will make less friends or learn less things. I knew this year would be different for me and my host family, and I didn't mind at all."
Luckily, Tina believes in creating her own happiness. "It is all about your mindset," she says. "I think that for every thing that I can't do this year, there will be another new thing I will enjoy. I won't be disappointed about things I can't do. I'd rather make up for it by doing something different. I believe that my experience will be just as great as other exchange students from the years before."
Tina is thrilled to go to high school in the USA, and very happy with her school.
What's Tina's advice for other exchange students?
"Everything is what you make of it. If you decide this year will be great and fully enjoy it, then it will be."
Welcome to Oklahoma, Tina! We look forward to hearing your story at the end of the year.
Paula from Spain: Planning to Meet People
Have you been to Valladolid? That's where Paula is from. It's a beautiful Spanish city jam packed with history and culture - just two hours from Madrid.
Paula has already made her way across the Atlantic and into the arms of her wonderful host family in Indianapolis. How are things so far? "It's really good. The family is so nice and I'm sure I'll meet a lot of new people soon."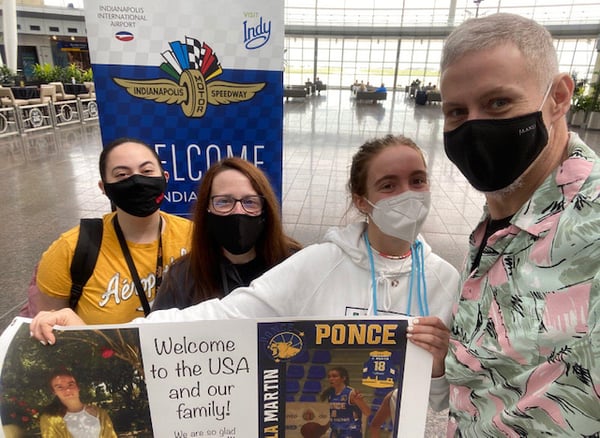 Paula arrived received a warm welcome from her host family in Indianapolis.
Like Italy, Spain has been hard hit by the pandemic, and Paula knows what the situation is like in the USA. But, as she says, "I think the same situation is going to be all over the world, and I have to take advantage of this opportunity because it's great!"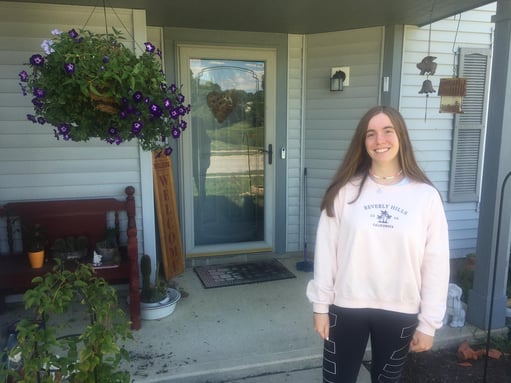 Paula from Valladolid, Spain is comfortable in her new home in Indiana.
Is she afraid the pandemic could ruin her experience this year? Definitely not! "Maybe at the beginning the pandemic will stop me from doing different things, but I'll have fun anyway." And she has a plan: "I'll get to know a lot of people, make a lot of friends and enjoy every single day I'm here, in spite of any inconveniences caused by the pandemic."
She encourages other kids wishing to do an exchange to give it a chance. "I would tell them not to be afraid and just be cautious. And I assure them they will enjoy their time here a lot."
Welcome to Indianapolis, Paula! We will check in with you again next year.
Sam from Hong Kong: Hoping to Play Basketball
Sam knows that signing up for an exchange program requires a lot of hard work. "I planned for over a year to go to the US, and the visa was approved," he explains. But then the pandemic hit. What next?
There was no question in Sam's mind. He had been dreaming of spending a year in the USA with an American family at an American high school. It was now or never. So, he packed his bags and headed for Kansas.
Sam and host brother make the most of their cultural exchange in Kansas.
"We won't be able to do many school activities," he recognizes. But, instead of worrying about the can'ts, he's focused on the cans: "I'll try to be more outgoing and less shy. I'll try to talk with people in my host family so I can understand more about this culture."
And so far, so good. "I'm doing great," he reports, after just a few days in the USA. "I'm playing board games with kids and sometimes I go sightseeing in Garden City."
What's Sam's advice for exchange students who haven't departed yet? "Remember to bring some mosquito repellent because there are so many insects here. And be active in your host family. Don't always stay in your room, try to talk with them."
Best of luck, Sam! You're off to a good start. We will be checking in with you next June!
The Exchanges Have Begun...
The pandemic has stopped many things, but not high school exchange.
American host families and schools are opening their doors to young people from around the world. Fresh air and new ideas are breezing into hearts and minds as cultural exchanges continue to make our world a better place.
May high school exchange continue forever!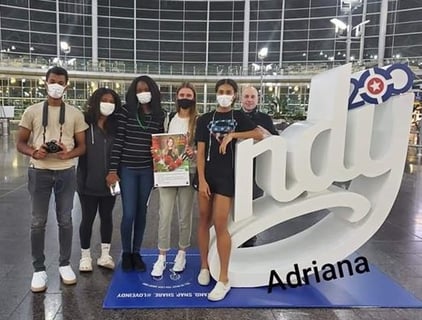 Students are arriving daily, but some are still waiting for the wonderful news that they have a host family.
We are currently seeking short-term Welcome Families! These heroes give exchange students the opportunity to come and start school while we continue to search for a permanent host family.
This is a 4-8 week commitment that will enrich your family and make an exchange student's dream come true! Contact us today for more information.