Your exchange student from Spain should make you a paella. Every Spanish teenager knows that, but many will procrastinate until it's just too late. Why?
The answer is simple: many kids think it's just too hard and risky.
Beware of Paella Perfectionism...
Paella is a tasty, fun-filled Spanish tradition!
Paella is also the perfect party food! It's something you can make together. And paella is meant to eat together, with as many people as you can round up. And, paella is a great way to learn about Spain.
But there's a problem: perfectionism. Paella is a big deal in Spain and many Spanish teenagers feel too intimidated to make it.
What if the rice turns out too hard or soft?
What if the flavor doesn't meet Spain's "national standards"?
What if you let your ancestors down?
What if people simply don't like it?
Don't let fear of failure stop your student!
In this post we will make paella easy and fun. We'll also make it fascinating because paella brings Spanish history, geography and traditions to life.
Spoiler Alert: Free Paella Trivia Game
At the end of this post, there is a free, printable
Paella Trivia Game
that you can play while enjoying your paellas on
National Paella Day
(March 27) and
World Paella Day
(September 20) - or any day for that matter.
Every day is a good day for a Paella Party. Invite family and friends. Then, download, print and play Paella Trivia over plates of paella. And don't forget to ask your Spanish exchange student these questions:
What are the best occasions for making paella in Spain?
Who is the "paella-maker" in your student's family?
What is special about the family recipe?
Paella Chefs in the USA
Two Spanish exchange students have bravely faced the ICES Paella Challenge and produced beautiful meals for their host families. Eva from the South of Spain is in Texas this year. Ona from Barcelona is on exchange in Michigan this year. Thank you both for sharing your experiences - and your recipes!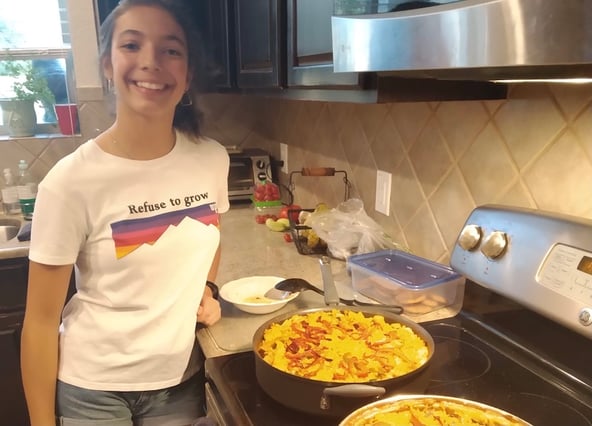 Eva stepped up to the plate and whipped out a large batch of paella for family and friends. "My host family and friends really like to make paella," she reports. "Since I made two paellas, it looked kind of difficult for them, and I guess they thought it was interesting how all the ingredients combined, but they really enjoyed it!
Paella Time: Ready, Set, Go!
And now it's time to rally your student from Spain to organize your own paella celebration. Keep reading for recipes, cultural information - and your free game.
Ona from Barcelona made a Catalonian version of paella for her host family in Michigan.
Paella Essentials
The exact, best (right?) recipe for paella is a matter of great dispute in Spain. Families even feud over whose recipe reigns. However, everyone would agree there are two essential items that every paella in the world should revolve around:
The pan
It's nice to have a real "paellera" (paella pan), but it's not necessary. You can make do with what you have for now.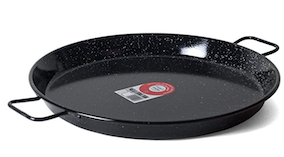 Paella pans come in many versions: stainless steel, cast grey iron, enamel, non-stick and more. The enamel version works well and is easier to maintain than the cast iron.
Just for the record, the word "paella" originally meant "pan", but today most people refer to the pan as a "paellera". And this shallow pan with two handles may have come to Spain from Italy, but that's another story.
The rice
The right rice is round rice, and that is non-negotiable. The right rice is the key to the right texture. A long grain rice, for example, would make a mushy paella, so be sure pay close attention to this detail.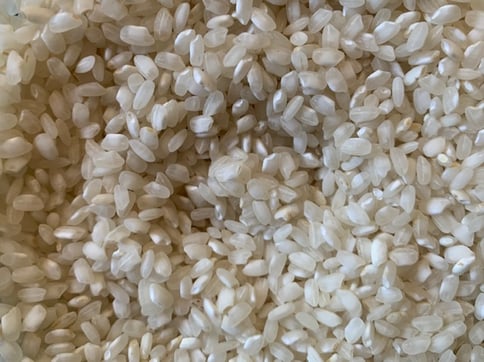 In Spain paella is made of a round rice called Arroz Bomba. Use a short grain, round rice when you make your paella in the USA.
Look for "arroz redondo" or even "Bomba rice" from Spain (if you want the real thing). But simply getting a real round rice (even made in the USA) should do the trick.
Paella Recipes
In Spain there is a lot of debate over the "right" and "wrong" ways to make paella. In reality, there are as many different paella recipes as there are chefs, but the basic categories are:
Meat Paellas - these generally use some combination of chicken, pork and/or rabbit, and possibly a sprinkling of snails.
Seafood Paellas - these generally include calamari, prawns and mussels - and they are not considered original, traditional paella recipes.
Vegetarian Paellas - these are modern varieties that require some extra creativity and definitely do not comply with "official standards", but if they're tasty, who cares?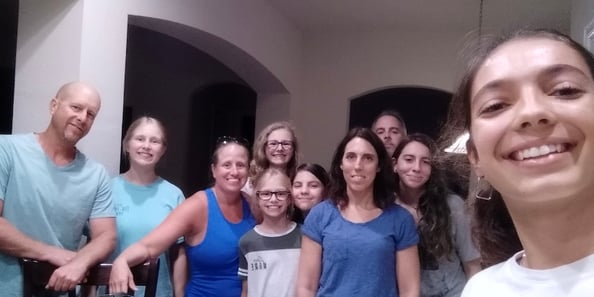 My host family loved watching me preparing paella," says Eva. "They talked with me, asking me about our traditions, how I do it back home. We had a lot of fun!" She recommends making this fun food together. "Host families can learn about some of our traditions and food, and probably they will really enjoy the food!"
Which type of paella is best for your family?
That's entirely up to you. Just don't let any official standards stop you from being creative. Check out the recipes below and then switch and swap your favorite ingredients to suit your needs and taste buds. Invent your own family recipe!
The Easiest Paella Recipe Ever
Let's start by making paella super easy. Once your student from Spain has helped you created a simple version the whole family loves, then you can try the "official" version - or some other version - if you like.
Basic "Meat Paella" Recipe
Ingredients:
6 chicken drumsticks
Chicken Bouillon (to make 4-5 cups chicken broth)
Small chunks of fatty pork (shoulder steak, for example)
2 cups Round Rice (Arroz Redondo)
Chopped Veggies (garlic, green peppers, tomatoes, green beans) and even cooked butter beans or other veggies you love...
A generous dash of Rosemary (sprigs or whole leaves)
A dash of clove (if you like)
Yellow food coloring or a pinch of Saffron
Olive oil
Salt to taste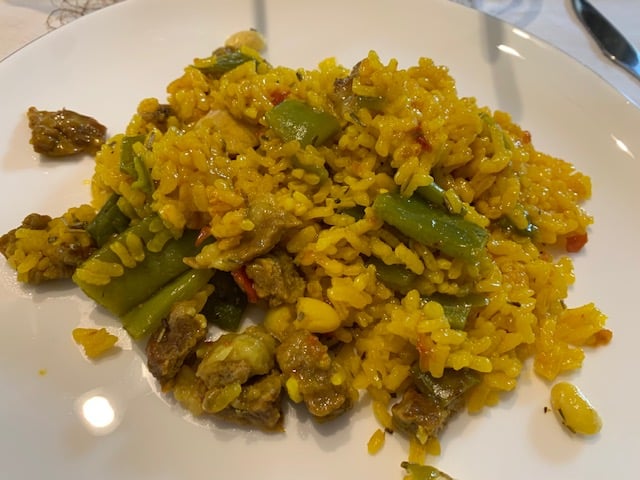 Enjoy this easy-to-make paella with a first course of fresh green salad. Then follow up with fresh fruit or yogurt for dessert - like a true Mediterranean!
Instructions:
Boil the chicken drumsticks in the broth until just done.

Fire up the paella pan.

Drizzle olive oil all over the pan.

Add chopped garlic, tomatoes, green peppers.

Sauté veggies for 3-4 minutes.

Add chopped pork and sauté till brown.

Sprinkle the rice evenly across the pan.

Carefully add the broth without upsetting the rice.

Add yellow food coloring or a pinch of saffron (preferably).

Sprinkle rosemary all across the paella.

Add additional veggies (green beans, broad beans etc.)

Taste and add salt as needed.

Bring to a bubbly boil, then reduce heat, cover and simmer till the rice is done.*

Remove from heat, add cover to keep the steam in and let it rest 10 minutes.

Set the pan in the middle of the table and take a picture - one with the chefs and another with the entire family - before serving.

Enjoy! Or, in Spanish: "¡Qué aproveche!"
The Perfect Paella Test: Socarrat
How did your paella turn out?
In Spain, everyone seems to agree on one thing: a good paella will have a layer of crunchy, toasted rice on the bottom. This is called "socarrat". Children quickly learn to fight over it, but even adults usually ask for their share. What about your paella? Any crunch?
Once you're happy with this simple, easy paella recipe, you and your Spanish exchange student might like to try to a more "Official Version" from Valencia.
A More "Official" Paella Recipe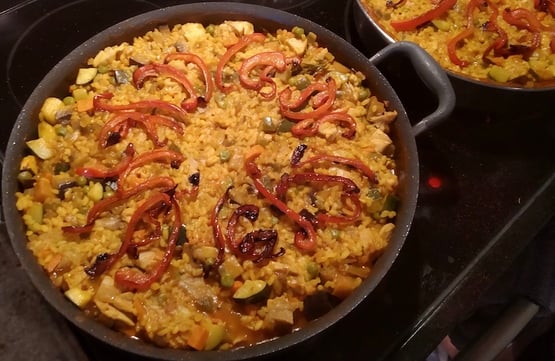 Eva's paella is 100% authentic - and delicious - even if it is not the "official" version from Valencia. In fact, in Spain there are as many versions of paella as there are chefs. Paella contests, events and tastings show just how versatile the original dish from Valencia can be.
Paella is from the region of Valencia on the east coast of Spain, therefore, natives of Valencia claim the rights to all things paella, including the official recipe. Here is a good example of paella from Valencia based a description in Tapa Magazine:
Valencian Paella Recipe
Ingredients:
2 cups Bomba rice
4 cups water
2 pounds chicken (chopped)
1 pound rabbit (chopped)
Tomato (chopped)
3 fresh artichokes (soak in water with squeeze of lemon first)
½ cup butter beans (cooked and peeled)
½ green beans (chopped)
½ tsp. Paprika
8 grains of saffron
Olive oil
Salt
Instructions:
Brown the chicken and rabbit in the paella pan with olive oil.
Remove the browned meat and set aside.
Brown green beans and artichokes (dry first - and chop).
Add the tomato and sauté.
Remove the artichokes and set aside.
Return meat to the pan and add the paprika and saffron.
Add the water to boil the meat for 25-30 minutes.
Add water to bring water level back to pre-boiling status.
Carefully add the rice and butter beans evenly across the pan.
Bring to a boil for 8 minutes.
Reduce heat to a low simmer for 10 minutes.
Add liquid if the rice is still hard - and keep simmering.
Optional: add food coloring for a boost of yellow if you like
Note: in Spain, paella rice is often chewy - just a bit, or even a lot. Why? Because they don't cover the rice as it cooks. If you like your rice "al dente" or even chewier, try this version. If not, then all you need to do is cover it as it simmers - and even as it rests afterwards.
The "Original" Paella Recipe
What about the bona fide "original" paella recipe? That is a matter of great discussion in Spain because we need to go back several hundred years. And the records are not so clear.
We do know that paella comes from a place called Albufarra (in Valencia, Spain, of course). And it appears that the first paellas were made with ingredients like eel, snails, duck and green beans.
Variations: Spanish Rice Recipes
You are free to create your own version of paella, but you might get some flack from the Spaniards in your life. But don't let that stop you!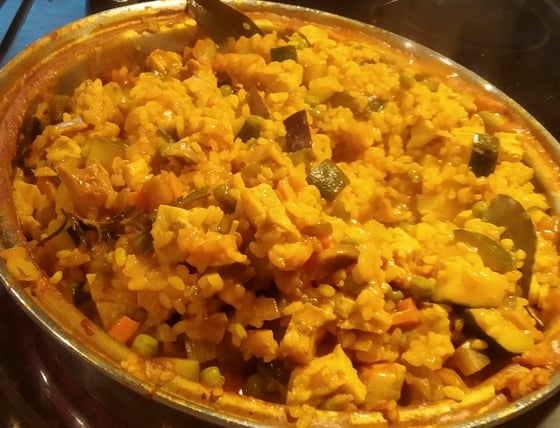 "My parents back in Spain are vegetarian, so at home we don't add meat or fish," explains Eva. "But when I made paella here in the USA, we put rice, water, olive oil, vegetable stock, chicken, salt, bay leaves, rosemary, tomato sauce, eggplant, red bell peppers, onion, garlic, green bell peppers, carrot, green peas, zucchini and special seasoning for paella (that I brought from home). The paella seasoning contains turmeric, paprika, nutmeg and cumin."
Here are links to recipes for some delicious variations:
National Paella Day
National Paella Day (March 27 this 2021) is shadowed by World Paella Day in September, but it's a great chance to start practicing your paella-making skills. Practice getting your rice just right so you can participate in international paella contests and events this fall!
World Paella Day
World Paella Day is September 20 every year. You can participate wherever you are. Simply make the official recipe here, then use the hashtag #Worldpaelladay when you share your pictures and experiences with the world!
World Paella Day is also a good reason to visit Spain - and stop in Valencia for a few days. See what's on the agenda this year: Paella tasting? Paella competitions? Paella restaurant tours? Paella tapas? Paella cooking classes?
World Paella Day is also a good reason to host a student from Spain. Spanish teenagers are generally well-equipped with Paella Excellence Criteria - and a good set of taste buds. Your student can help you perfect your paella-making skills.
Celebrate Paella: Play Paella Trivia
Now it's your turn! Round up your Spanish exchange student and get cooking. Be sure to invite family and friends to join in the fun - and play Paella Trivia as you enjoy your meal.
To download the game, click here: FREE Paella Trivia Game.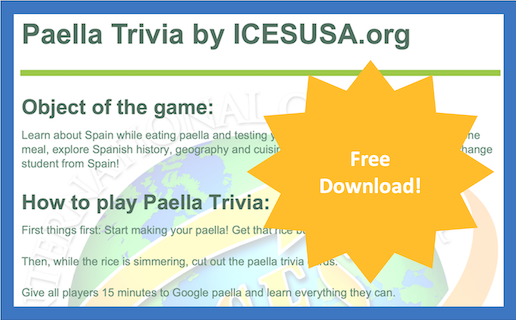 ¡Qué aproveche!
The rough equivalent to "bon appetit" in Spain is "qué aproveche"...
...Enjoy your meal and your cultural exchange!