Jill Bonin was a mom with a mission: connect her son and daughter – adopted from Korea – with their homeland in meaningful ways. How could she teach them about Korean culture? How could she ensure they felt proud of their ethnic heritage?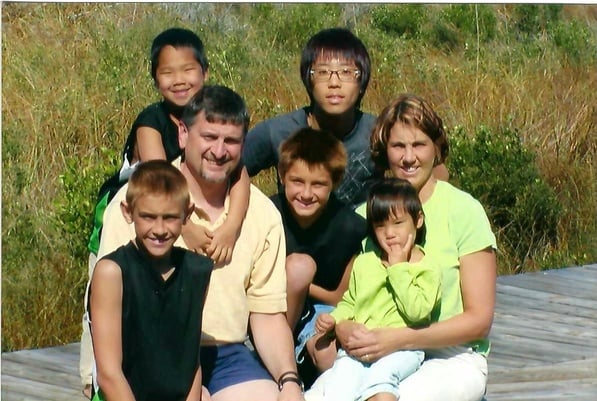 Youth exchange was just the answer she was looking for! Why not host students from South Korea to see if they might bond with her kids? So, first came Joong, an outgoing, athletic big brother for four-year-old Parker and two-year-old Tate. Then came YeNa, a vivacious, affectionate big sister. Both teens loved sharing their culture with the kids, and the entire family.
Tourism vs Hosting Exchange Students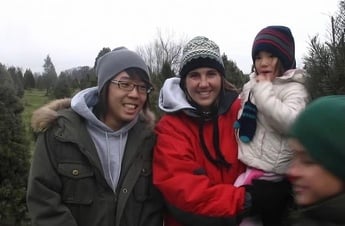 Jill and Joong (left) had many fascinating cross-cultural conversations that equipped her to help her Korean-born children explore their ethnic heritage.
"I visited Korea, but you only get a taste of the culture that way," Jill explains. "Hosting a teen from there I was able to have so many one-on-one conversations and learn a lot about their culture. You learn so much about the family dynamics and how they were raised."
Talking about Adoption
Like all adoptive moms Jill wondered about her children's birth moms. She knew her kids would look for answers and need to talk about this subject as they grew.
What might be the birth moms' stories?

What social factors led them to surrender their babies?

What could she tell her children when they asked for more information?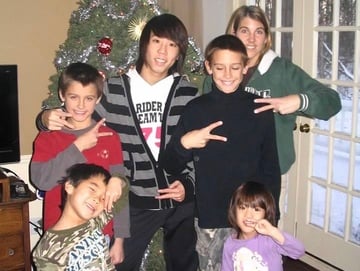 Joong fit right into the Bonin family and thoroughly enjoyed living his version of the American dream while sharing his Korean culture with the family.
The more she learned from Joong and YeNa, the more she understood the essence of so many Korean adoption stories. "It gave me a much deeper understanding of the culture. I learned how families in Korea are very strict and how that plays into the pressure to make their family proud as teenagers and young adults. That gave me some insights into my own children's birth mothers and how they had to give them up to not bring dishonor on their families."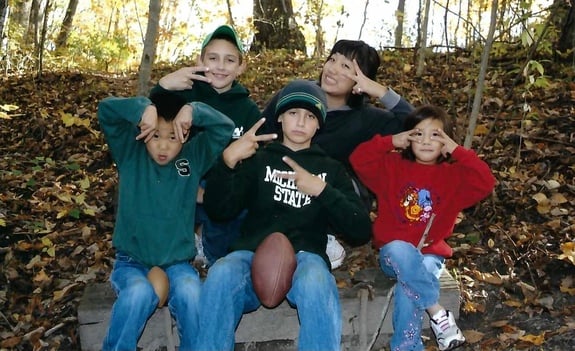 YeNa was also an excellent fit for the Bonin family. Like Joong, she loved participating in family fun - and sharing her Korean culture with this international family.
And both teenagers were surprisingly interested in talking about Korean adoption – a tough topic back home. "In Korea, at that time, adoption was a hot topic. Koreans didn't adopt Koreans. My exchange students (Joong and YeNa) were very interested in talking about this. They talked about their generation being more open about adoption."
Real Relationships with Real Koreans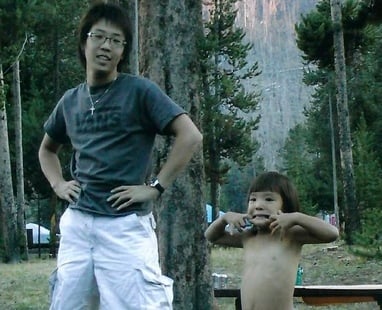 Two-year-old Tate enjoyed having a big brother from her country of origin and Joong thoroughly enjoyed playing this role in the Bonin family.
Joong quickly melted any stereotypes this family might have had about Koreans being quiet and focused on studying around the clock. "In some ways he was a non-typical Korean. He was extremely extroverted and wanted to get involved in everything. He was in soccer and track. We loved going to his games. We went to his soccer games. He had never done track and field before and became the best long jumper. He ran races too, relays and dashes."
Big Brother from Korea
And Joong took the kids under his wing, especially little Parker. He enjoyed being the big brother and providing a role model. This meant the world to the mom and dad Bonin. "He was a lot of fun," Jill recalls, "We love to play board games and cards, and the kids enjoyed joking around with him."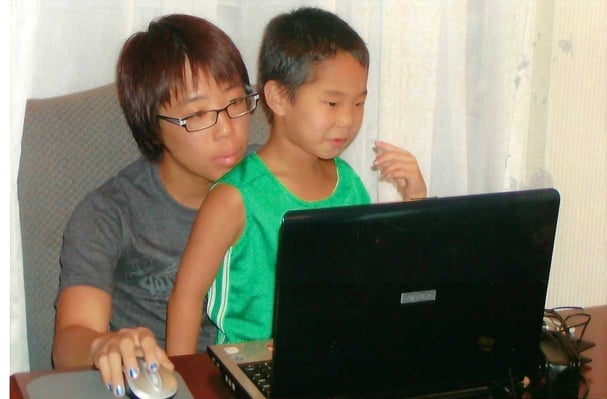 Four-year-old Parker was happy to "help" his big brother with whatever he was doing.
A family camping trip was the clincher when it came to bonding with the entire clan – including grandma and grandpa. "We took him on a two-week camping trip with our family and my parents to Yellowstone, the Badlands, the Tetons and Mount Rushmore. He did very well with my parents. Korean culture is very respectful of elders."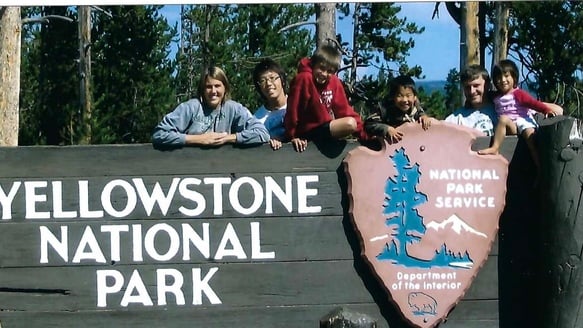 The Yellowstone camping trip was a bonding experience for the entire family - including grandpa and grandma who also enjoyed hosting Joong.
Big Sister from Korea
It was hard to send Joong home at the end of the year, but the family was excited to welcome YeNa the following year. And just like Joong, the Bonin family could not have asked for a better kid: respectful, kind, warm, nurturing and very fun-loving.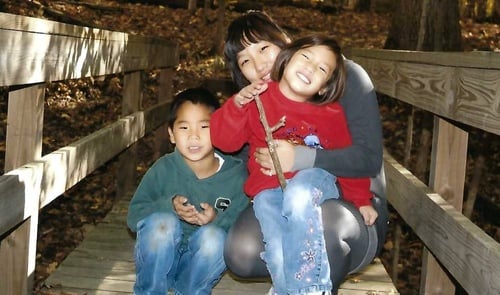 YeNa was another wonderful and welcome addition to the Bonin family. She loved nurturing the children as part of her big sister role.
"She was also pretty extroverted and outgoing but was a bit more into studying," says Jill who was thrilled to watch how YeNa also fit right into the family – grandparents included, just like Joong. "She was wonderful with our parents."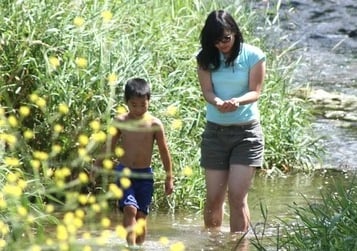 YeNa was an active member of the family from day one and loved spending time with the kids on family adventures.
And she also loved playing her role of older sibling to the children. "She was really good with them and liked to hold their hands. She was very nurturing with the children." But Jill was especially touched by the relationship that grew between the two girls. "She became a sister to my daughter. Both girls had only brothers and no sisters, so they became sisters."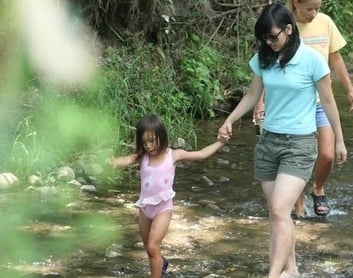 Both Tate (right) and YeNa had only brothers. This was a chance for each of them to gain a sister - for life!
YeNa also loved traveling with the Bonin family. "When she first got here, we were able to take her on our trip to Michigan. She got to do things she's never done before. We took her tubing and kayaking. She got to ride on the back of quads. It was a great chance to bond."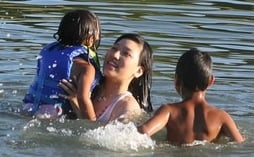 Whether visiting family in Michigan or camping in Florida, YeNa was always right there in the center of the action, enjoying the family fun.
And that was just a prelude to the big family camping trip. "We took her camping to Florida and went snorkeling and all slept in one big tent." That meant nine people sleeping together in one big tent for one whole week. "She was game for anything," Jill smiles.
Host Families are Forever Families
Adoptive families are known as "forever families", just like so many host families! Joong and YeNa will always be part of the Bonin family - forever and ever. In fact, both students are from Seoul, and they too have become good friends back home.
And the door is always open at the Bonins. They were excited to have YeNa return for a Christmas visit and then again two years later when she brought her mother. "When YeNa came back with her mom, they wanted to put on a huge, traditional Korean meal," Jill recounts. "We went to a Korean market to shop. They spent all day in the kitchen. It was delicious. We are adventurous eaters."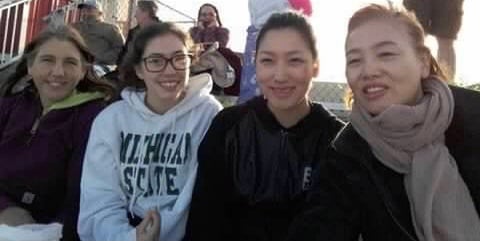 YeNa returned to the US for a Christmas visit to make more memories together and continue their rich, cultural exchange. This time her mother (right) came with her!
Now the Bonins are looking forward to travelling to Korea with their kids one day. "We want to do a homeland tour in Korea," Jill explains. A homeland tour is a special trip for children adopted internationally, a chance to visit their place of birth and tour their native land. "Now this will make it much more special. They can visit homes – especially YeNa and her mother."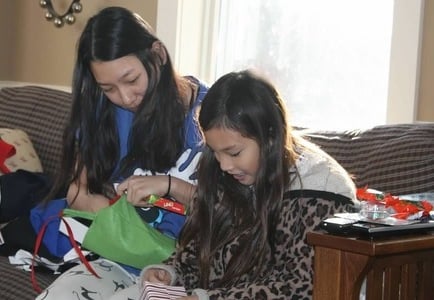 YeNa's Christmas visit was a chance to renew her relationship with Tate and see how the family had grown over the years following her exchange.
In the meantime, simply having real family in Korea has brought the culture to life for the kids. "Neither of them has ever been back to their home country but it puts a face to it," Jill explains. "They've lived with these people. It's given them an open door to their own culture that they wouldn't have had if we hadn't opened our home and hosted."
Becoming a Global Family
And the story doesn't stop here. After hosting Koreans, the bi-cultural Bonins went on to become a truly global family. Joong and YeNa had been so much fun to have they decided to keep on hosting. But why not explore other countries and cultures?
"We've hosted our 19th kid this year. And if adoption hadn't made us open to hosting, maybe we never would have done this and had a chance to bring the world into our home." Jill is more than happy with the outcome for her family. "Adoption is what drew us to hosting, to know our kids' home country. Now they have ties with many cultures."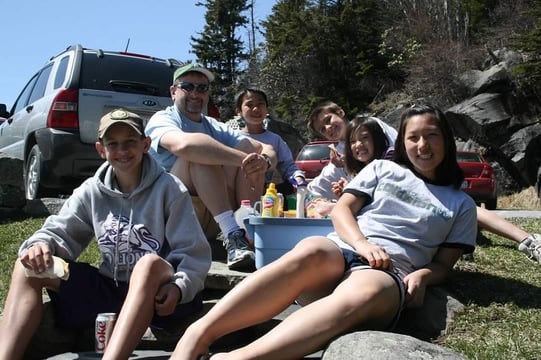 International adoption opened a door to Korea and Korean culture that sparked an interest in other countries and cultures. The Bonins have hosted 19 students from all over the planet - and they're not finished yet.
And there's no end in sight. "Every year we always ask the kids if they want to host again," says Jill. "They say, 'we've always hosted, why wouldn't we?' Even my kids who are away always ask who we are getting this year."
It's the two older Bonin boys who are away, grown up and on their own. Both are getting married in the coming months. "We already have people coming from Germany and Mexico," Jill reports amid the pandemic. "Someone is trying to get out of Brazil, and another one is hoping to be able to travel from Korea."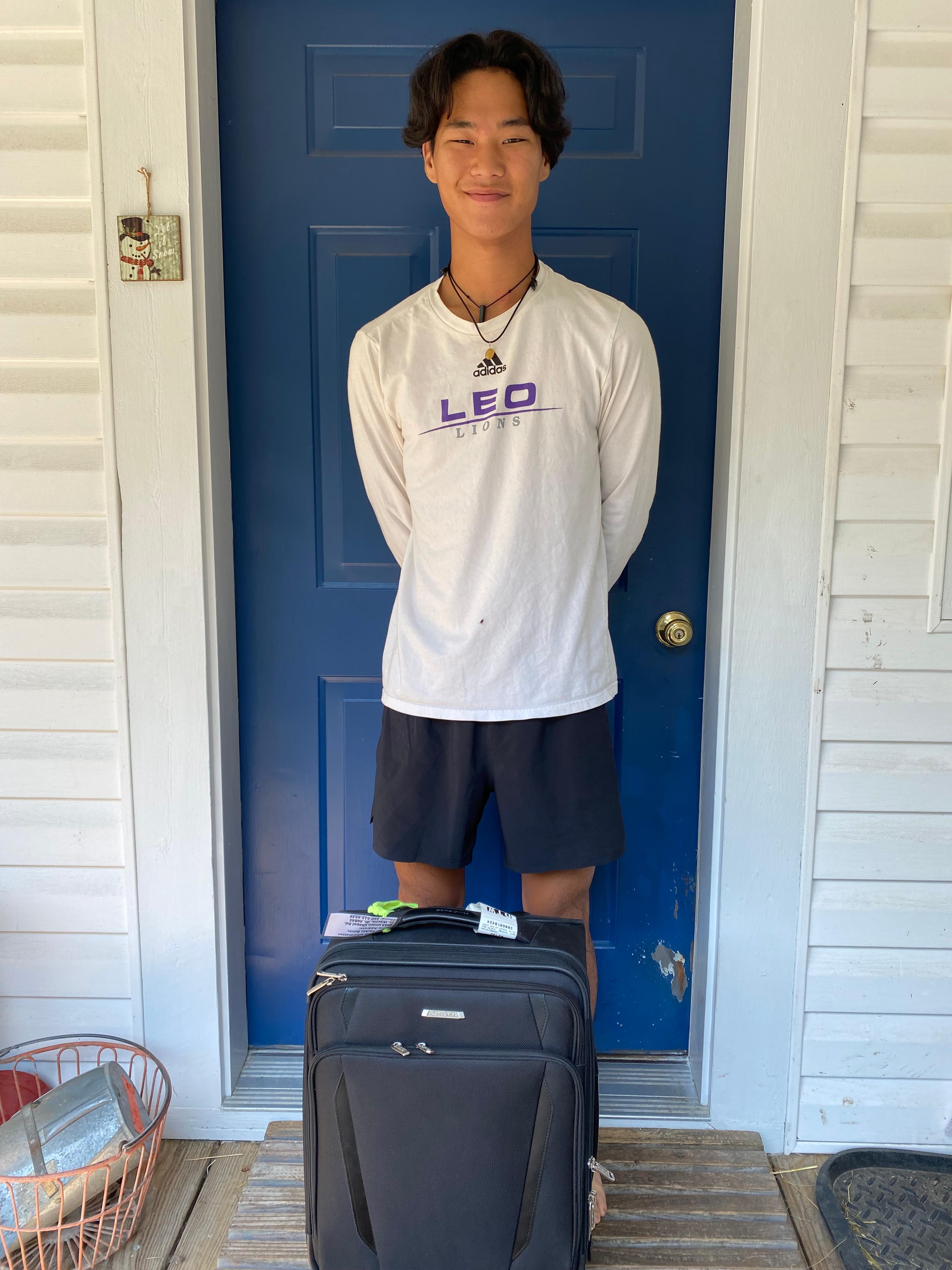 And as we speak, 19-year-old Parker is preparing for a trip, not to Korea (yet), but to Spain. He's booked his flights but he doesn't need a hotel...
Parker will stay with four former host brothers as he travels around the country. Everyone in Spain is eagerly awaiting his arrival. And he is excited to visit the country not as a tourist, but as a friend - or family, even.