ICES is pleased to announce that Tuva from Norway has been selected as the Student of the Month for April. Tuva has spent her exchange year with the Larson family in Eugene, Oregon and attended Willamette High School. She was nominated by her host dad, Chris.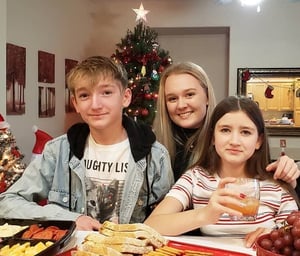 Tuva's arrival to the Larson family was a long time coming. In 2015, the Larsons hosted their first exchange student, who was good friends with Tuva's older sister, Magni. Magni spent a lot of time at the Larson home and became close to their family. She told them she had a younger sister, and asked if they would consider hosting her if she ever came on exchange. The Larsons gladly agreed.
Fast-forward four years, and Tuva arrived in Oregon and was welcomed into the Larson family. Host dad, Chris, says, "From [the day she arrived] she truly became a part of our family. She became our Norwegian daughter. She fit into our family like she was born into it."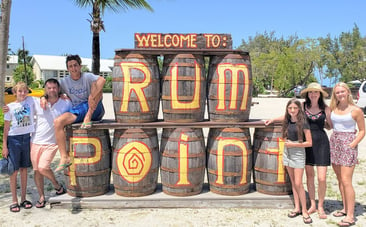 Tuva is an adventurous person and is up for trying anything. A few days after she arrived, she joined the Larsons on a family vacation to the Cayman Islands where she enjoyed many amazing memories including swimming in the Caribbean every day, swimming at night in the bioluminescent bay, taking a catamaran ride to swim with the stingrays, and even kissing a stingray named Ginger. Tuva enjoyed kayaking to Starfish Point, bike riding, and swimming pool shenanigans, and she documented all of it on Instagram. During the trip, Tuva also had the fun experience of meeting Alvaro, a Spanish boy who was hosted by the Larsons previously and comes "home" to them every summer.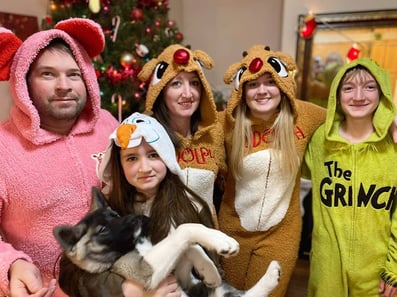 The host family describes Tuva as bold and adventurous, cheerful and outgoing, calm and well balanced, and overall kind. She is never afraid to try new things. Host dad, Chris, adds, "What can I say about Tuva? She is easy to scare, which always makes me laugh. She does not like scary movies. Her English is better than most Americans', even mine. She is like any other teenager in the world: She knows how to roll her eyes, deep sighs, she has sarcastic and witty comments. She can text 200 wpm, takes Instagram worthy photos, binge watches tv shows or Disney movies, loves music (especially a good Thanksgiving rap song) and loves puzzles (once she starts one she can't stop until it's finished). She has an amazing personality and she loves to laugh. Tuva is a wonderful sister, friend and daughter. If you know her, you love her, and anyone would be lucky to have her in their life. I know we are."
Even during the days of shelter-at-home requirement, with all the uncertainty around, Tuva still tries to make the most out of each day. She continues to make memories with her host family and they continue to laugh together every day.
As the Student of the Month, Tuva will receive a $100 Visa gift card, an ICES t-shirt, and a letter from ICES President, John Crist.
Why Host?
Often, we are asked why we host exchange students. The answer becomes more complex every year we host. Each year we create bonds with our student, and they become our kids. Every year we learn more about ourselves through the interactions we have with our students. These teenagers are leaving their families and everything they know that makes them safe and secure. These teens are brave, courageous, adventurous, fearless, kindhearted, and loving. The answer we gave the first time we were asked is not the same answer we would give now because these kids have created new, better versions of us. The one answer that stays the same throughout this is: When you are here, you are no longer just an exchange student; you are part of our family.
-Chris Larson, Host Dad