Thomas Schaper has been named the ICES Student of the Month for January. Thomas is from Berlin, Germany and is living with the Rex family in Estacada, Oregon. He was nominated by his host dad, Keith.
Thomas's ability to overcome challenges with determination and a positive attitude have enabled him to thrive and enjoy his exchange. His first challenge popped up just minutes after his arrival in Oregon. After receiving a warm greeting from his host family at the airport, Thomas reached for his phone to inform his parents of his safe arrival—only to discover the phone was missing. Thomas felt a sense of panic, but his supportive host family helped him navigate the three-day process of locating and recovering the phone. Thomas says working through this small crisis together helped him bond with his host family quickly.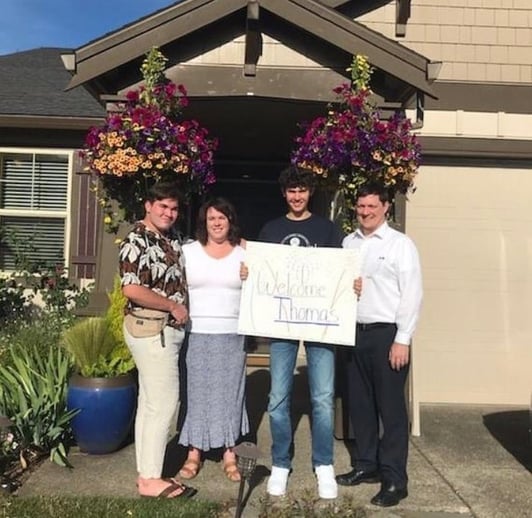 Thomas's arrival to his new home in Oregon
On Day 8 of his exchange, the Rexes had to evacuate their home because of approaching wildfires that threatened the community. Despite his fear, Thomas pitched in and helped pack the cars as his host parents reassured him that they would all be ok. Thomas and the Rexes spent a few nights at a hotel, and then more time with relatives before getting the all-clear to safely return to their home. Thomas says that although it was scary, it served to help him bond even more deeply with the family.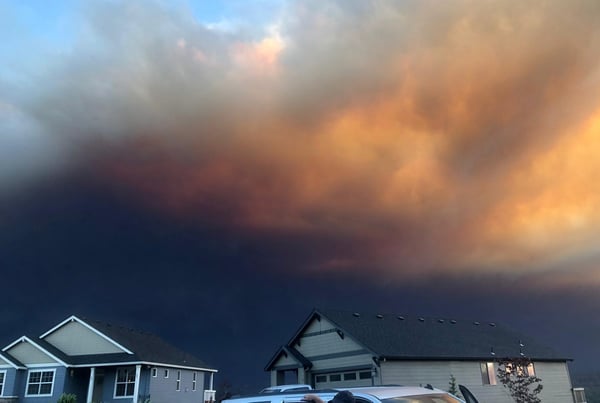 Smoke from the Oregon wildfires
Shortly after settling back into home, it was time for school to start. Thomas says, "I was very happy to start school, even though it was online. I'm lucky to be at Estacada High School. Teachers help a lot, and the school is really friendly to exchange students. Even though it's online, it's still pretty fun." He adds that he's been able to make friends because he's not afraid to text classmates, even if he doesn't know them well.
Thomas works hard in school, and his teachers are grateful for his active engagement in class. He attends every class with his video on, asks and answers questions thoughtfully, and interacts with the teachers and other students. Host dad, Keith, who works from home says, "I often hear Thomas and our son (who share five of six classes) run back and forth across the hall, knock on each other's door, and ask clarifying questions or make comments to each other." Even online school is a bonding experience!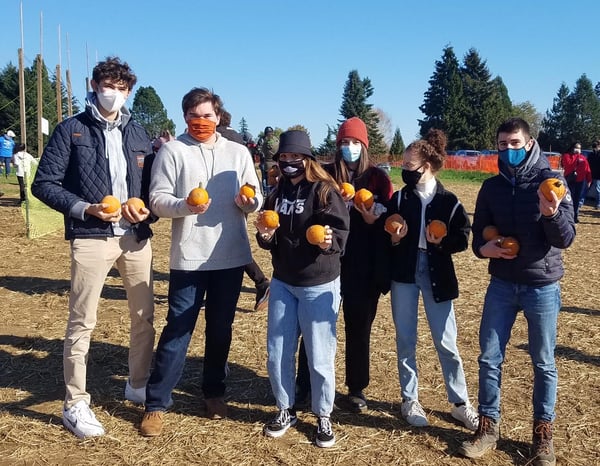 Three weeks into the school year, Thomas participated in Senior Sunrise, which turned out to be one of the most special memories of his exchange. He woke at 3:15 a.m. to meet up with classmates to enjoy the beauty of watching the sun rise over the Oregon mountains. It was an experience to remember, for sure!
Thomas loves the beauty of Oregon and appreciates that his host family has taken him to the coast and other parts of the state. While he enjoys his beautiful host community, Thomas says it does feel a little weird to live in a small community of 3000 people—just a fraction of his hometown, Berlin's, 3.5 million population. He is particularly impressed by Oregon's trees and remarks, "I'm really tall (just shy of 6'6") but it's amazing to see trees here that are even taller than me!"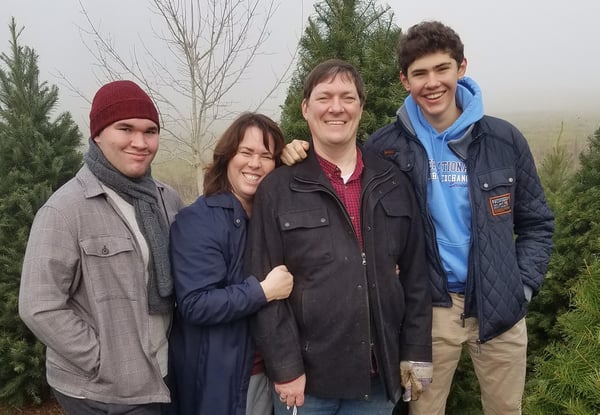 His height makes him a natural at basketball, which he has played for six years in Germany. On exchange, he enjoyed an abbreviated season in the fall--including masks and social distancing--and is eagerly anticipating a more normal season this spring.
When asked what it's been like to be an exchange student during a pandemic, he casually responds, "It's different than I thought [my exchange] would be, but I think it's great. Even though I can't do some of the stuff I wanted to do, I've grown really close to my host family and they feel like family."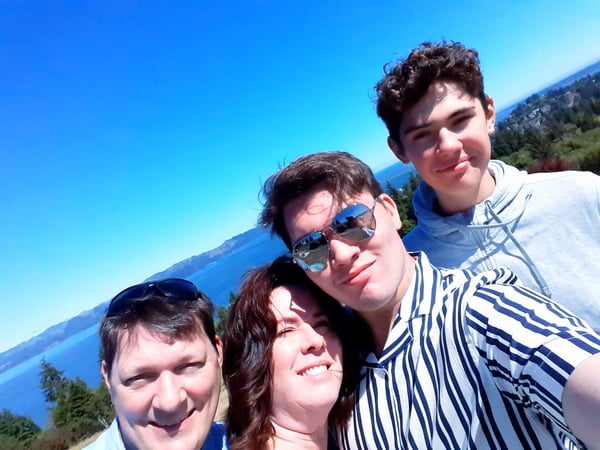 Thomas and the Rexes enjoy the beauty of Oregon
Even with the pandemic, Thomas has been able to experience lots of American culture. What stands out the most? "The food," says Thomas without hesitation. "Everything is bigger here. And Costco! I don't know why we don't have that in Germany. I loved Christmas stockings and eating turkey (both of which were a first), and I loved spending the whole day in my Christmas pajamas."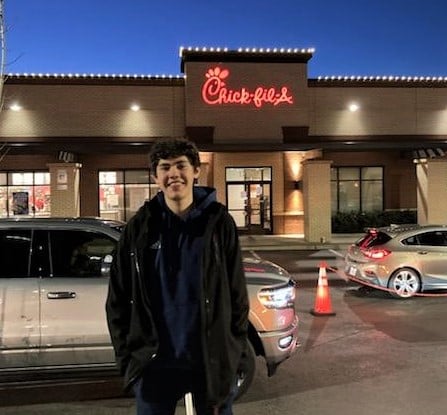 Another American favorite is Chick-fil-A, which Thomas visits often
Although only half way through his exchange year, Thomas says the experience has already changed him. "I've grown more independent, more organized, and learned to stand on my own. I also have a better understanding of money and how to manage it."
Although it was hard for Thomas's parents to let him come, knowing he has such a great host family and so much support has made it easier. And that's a good thing, because Thomas's younger brother has already applied to come on exchange with ICES this fall. Thomas is confident that he, too, will have a fabulous experience.
As the Student of the Month, Thomas will receive a $100 Visa gift card, an ICES t-shirt, and a congratulatory letter from ICES President, John Crist.

Nominate Your Student!
Has your student done a beautiful job of integrating into their host family and culture? Or found creative ways to share their culture? Or given back to the host community by volunteering? Maybe your student struggled at first but has worked hard to overcome challenges of their exchange. There are many ways ICES students excel, and this program is not limited to specific criteria. If you feel your student is awesome, please nominate them!
Guidelines for Nominating a Student
Tell us why your student is outstanding, including specific examples. If you wish, you may also include statements from school staff, the host family, Local Coordinator, and others in the community.

Include the student's full name, home country, and host city/state.

Include at least one (but preferably more) photos of the student.

Email submissions to stories@icesusa.org
Non-winning submissions will remain active for consideration for 60 days after which time a student may be re-nominated.