Leonie Laffitte has been selected as the ICES Student of the Month for November. Leonie is from Castres, France and is living with the Crum family in Lansing, Michigan. Leonie was nominated by her host mom, Alysse, who also submitted recommendation letters from the high school principal and two of Leonie's teachers.
Alysse outlined a long list of Leonie's qualities that make her deserving of this honor. According to her host mom, Leonie is charming, enthusiastic, intelligent, happy, and well-adjusted. She is fun, silly, and energetic with her host family and always willing to lend a hand with work that needs to be done.
Leonie says she came on exchange to discover American culture, live "the American dream", and become bilingual. She had not visited the U.S. prior to her exchange, as a family vacation planned for 2020 ended up being cancelled because of Covid. Leonie is thrilled to be here now, and is putting all her effort into making her exchange the best it can be.
Being in a family with young children—ages 10, 8, 4, and 2—means there is always life and activity in the home, and there's always something to do. Says Leonie, "The kids are so nice, and I'm so attached to them…I love them." She's taught them to count and say a few words in French, and she patiently answers their questions about France. Her host mom says, "Leonie goes above and beyond at home for her host siblings. She loves them and is there for them at all times."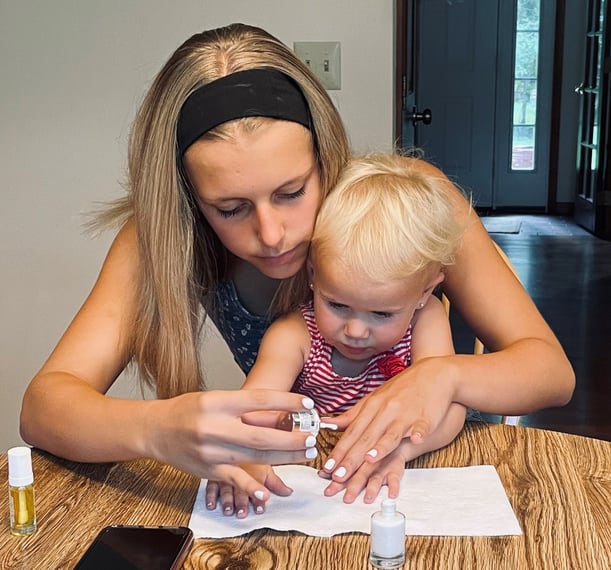 Leonie describes her host parents as "amazing". She says, "They are always here for me, always asking if I'm good, if I need anything. They are like, perfect."
Exchange students dream of experiencing real American culture, and Leonie's dream is coming true! She loves the American high school experience, with football games and other extra-curricular activities. She received the Most Enthusiastic award in sideline cheer and is currently volunteering as the manager for the basketball team.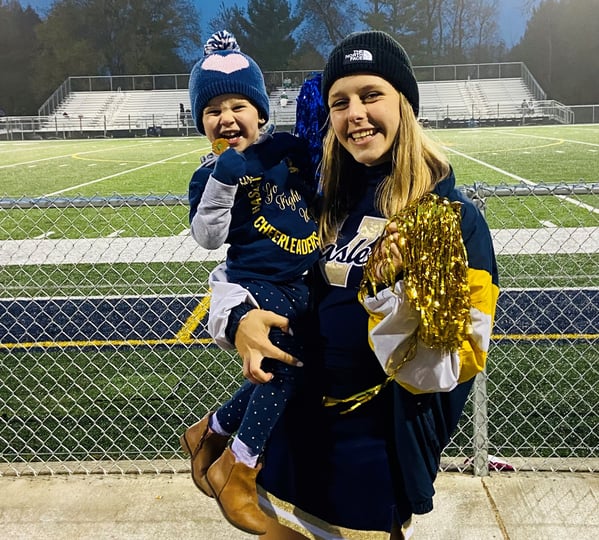 Leonie describes her classmates as very happy and friendly. They have warmly welcomed her to the school with only one problem: "Everyone knows my name, and everyone knows me—but I don't know everyone," says Leonie with a grin. And while there are three other exchange students in her school, Leonie chooses to focus most of her time and energy on making American friends.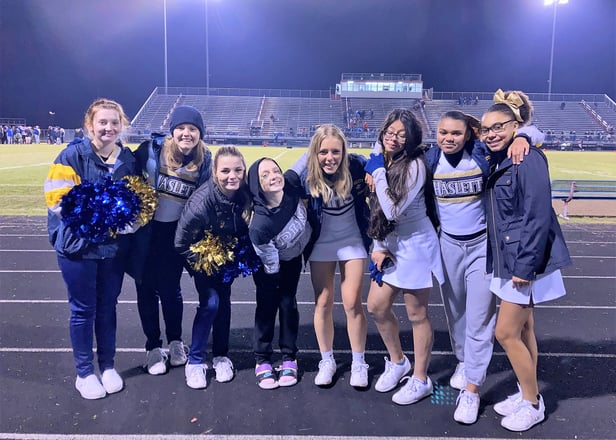 Exchange is all about cultural learning and new experiences, and Leonie is getting plenty of both! Some of her favorite new experiences include having a bonfire and eating s'mores, going to a water park, visiting a waterfall, and going to the horse races.
Her bucket list still has plenty left to fill the remaining months of her exchange. Her top hopes are to go to a drive-in movie, attend a baseball game, and to enjoy the thrill of an NBA game (which she actually checked off her list by the time this post published!)
The holiday season has brought Leonie some very special memories, with more on the way. She found her first Thanksgiving to be "really cool", and she loved the big family gathering at her host grandmother's home. Leonie tried stuffing for the first time—and liked it---but overall found Thanksgiving to be "TOO MUCH FOOD". Don't we all?
Leonie has nothing against great food though. In fact, she has participated in cooking competitions in France. Since her arrival in Michigan, she's cooked quite a few dishes for her host family including cakes, pancakes, and a completely-from-scratch lasagna. For Christmas, she plans to make a traditional French Buche de Noel cake. Yum!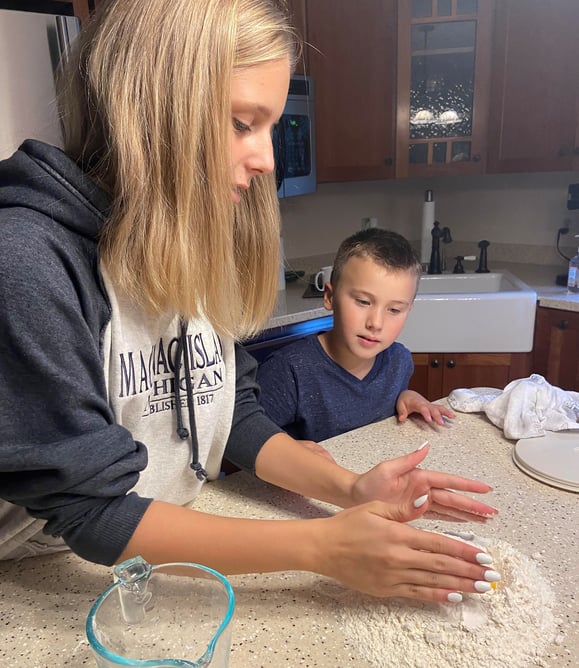 Leonie often includes her young host siblings in her cooking adventures. "All the time they are coming and they help me, and I don't like doing it by myself," she says. "I want to teach them, I want to show them how to do that…how to break an egg, mix everything." What special memories these will be for the young kids to cook with their cool French sister!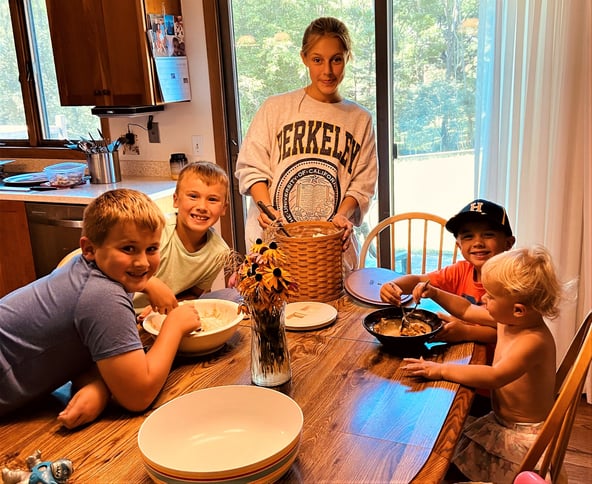 The siblings have taught Leonie a thing or two as well. The night before the family's annual Christmas decorating day, Leonie's young host brothers gave her the scoop, "Tomorrow we wake up really early and we do all the Christmas decorations." In her typical enthusiastic manner, Leonie set her alarm—on a Saturday morning—so she'd be ready to decorate with the family. Donned in red pants, a white shirt, and her Christmas hat, Leonie came downstairs to Christmas music and a new family tradition to enjoy.
As would be expected, there are a few things Leonie misses about France. The food—specifically the wonderful French cheeses—are hard to go without, and she also misses her family and friends.
But Leonie is having the experience of a lifetime, and she makes the most of each day in the U.S. The benefits of her exchange are great, not only for Leonie, but also for her host family, school, and community. She is truly leaving her mark as a cultural ambassador.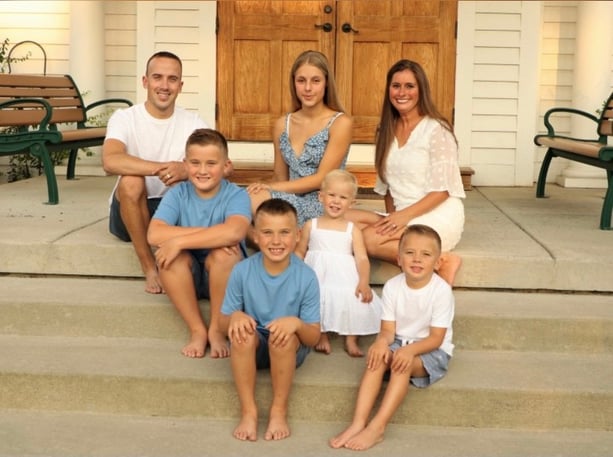 As the Student of the Month, Leonie will receive a $100 Visa gift card, an ICES t-shirt, and a letter of commendation from ICES President, John Crist.

Recognize the effort and accomplishments of your student by nominating them as the ICES Student of the Month!
Each month, ICES selects a student who embodies the spirit of youth exchange by being an awesome exchange student. Has your student done a beautiful job of integrating into their host family and community? Or found creative ways to share their culture? Or given back to the host community by volunteering? Maybe your student struggled at first but has worked hard to overcome challenges of their exchange. There are many ways ICES students excel, so if you feel your student is awesome, please nominate them and tell us why!
Send us your student's full name, home country, and host city/state along with specific reasons and examples of why they are awesome.
Send submissions to stories@icesusa.org