Have you ever wondered why families invite a foreign teen to live with them for 5-10 months? And why many families do it over and over? I could make a long list of fantastic reasons for hosting an exchange student, and I could explain the many ways being a host family would benefit and enrich your family.
Instead, I'll turn this week's blog over to some of our wonderful host families and let them share with you firsthand why they host.
---
Sarah Jefferson -

Yellville, Arkansas
We love the opportunity to build a multicultural family from all over the world! I believe that building relationships with people from other countries helps us develop compassion and understanding for those that are different from us, and maybe even realize that we aren't actually very different at all.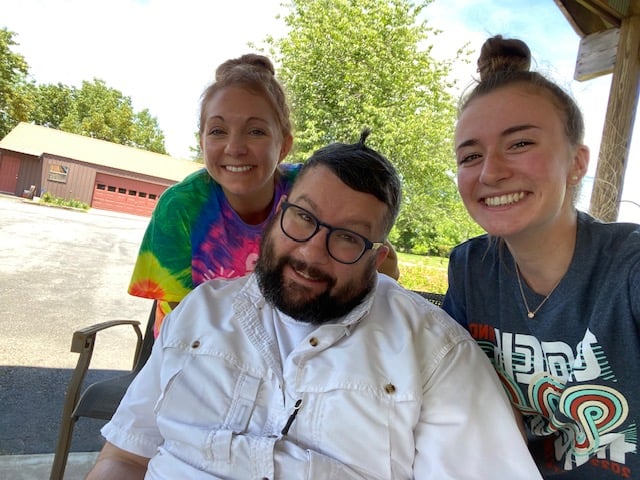 The Jeffersons with Barča (Czech Republic) on Messy Bun Monday
---
Cynthia Craft -

Sugar Hill, Georgia
We had been considering fostering children, and an exchange student seemed to be a good introduction to fostering. We have now had three students come and live with us for a school year. Two of them were siblings. We have already been to visit both families!! Great experience for my family.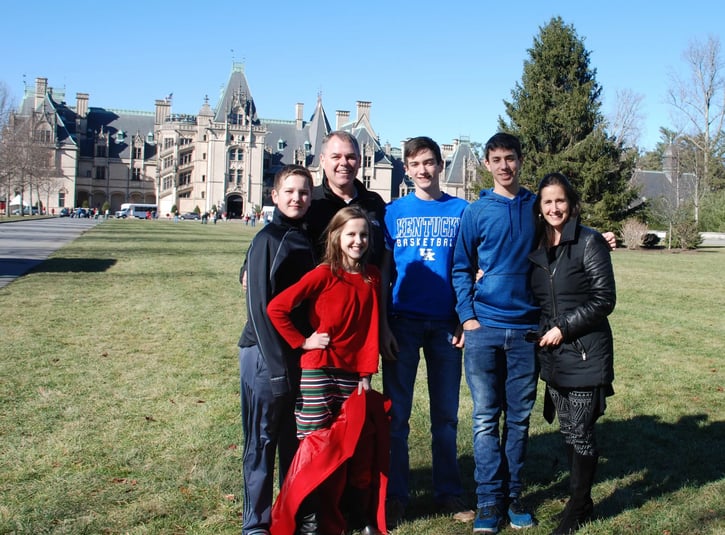 The Craft family took Gianluca (Italy) to visit Biltmore House in North Carolina
---
Helen Feldkamp - Cheboygan, Michigan
Why do we host? We actually get asked that quite a bit, but our answer is always the same: We are a big, blended, beautiful mix of chaos and love and it doesn't matter how we are family, only that TOGETHER WE ARE FAMILY!!!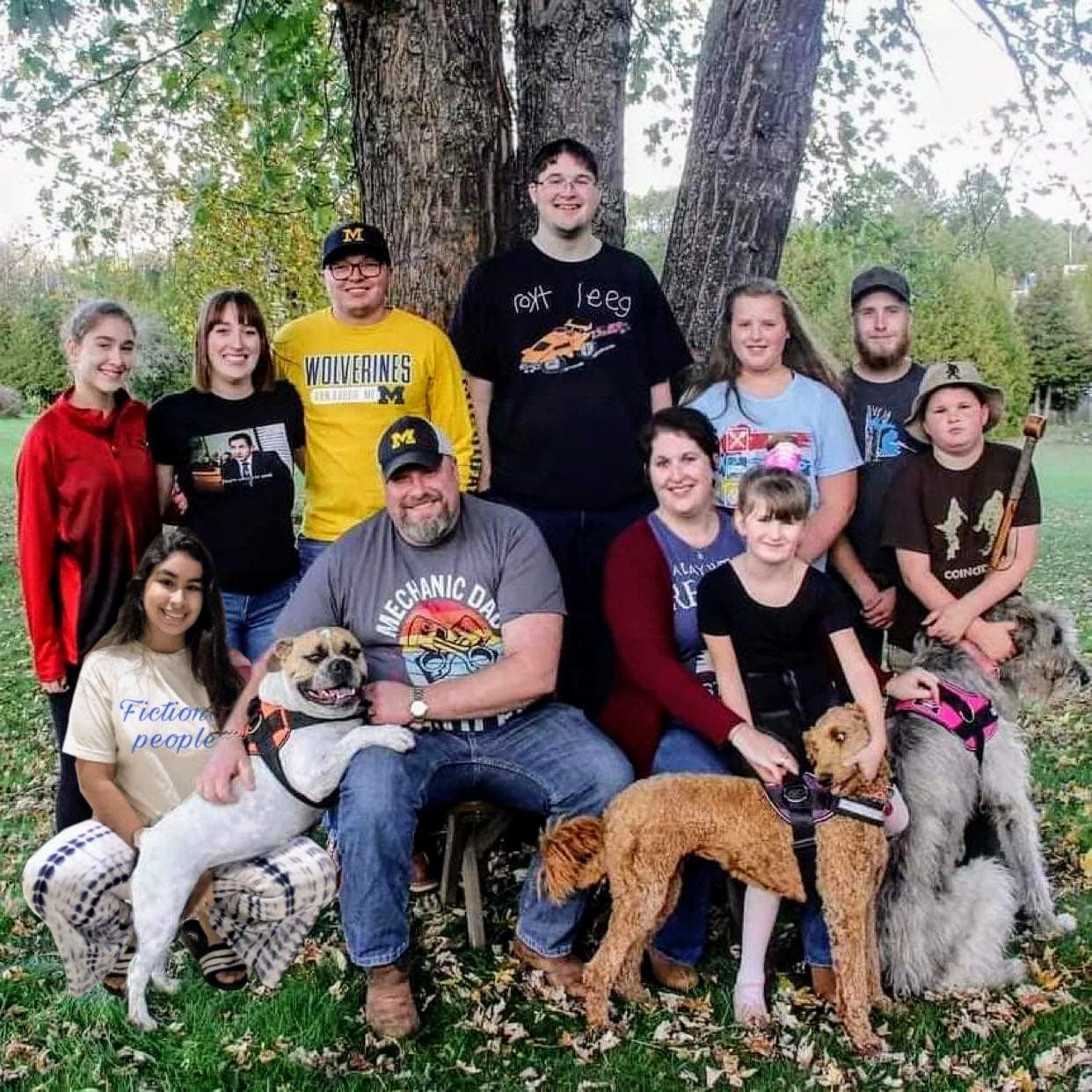 The Feldkamps with Victoria (Spain) (back left) and Isadora (Brazil) (front left) who photoshopped herself into the portrait so as not to be excluded
---
Casie Young -

Rayne, Louisiana
My family and I love hosting exchange students. Not only are we making their American Dream come true by welcoming them into our home, but we also learn so many things from their culture and families as well.
We have gone on several vacations to various other states to let them have the best experience possible by giving them the opportunity to learn more about the United Stated.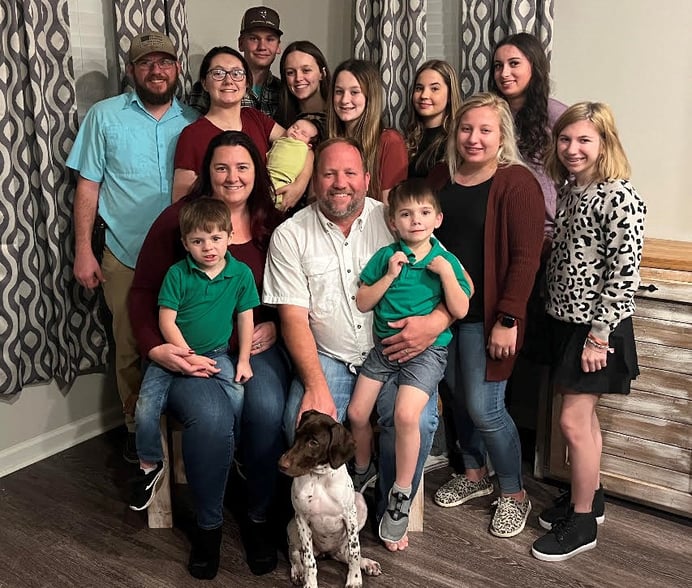 My family has enjoyed it so much that my daughter is now old enough to host her own student. This is my family with our exchange daughters from Germany and Spain.
---
Michelle Clement -

Altus, Oklahoma
We enjoyed our 1st student so much that halfway through the year we added a 2nd. It was fun watching them experience our American ways, and we loved learning about their countries. It is amazing how fast these kids become your family and how much you miss them when they go home.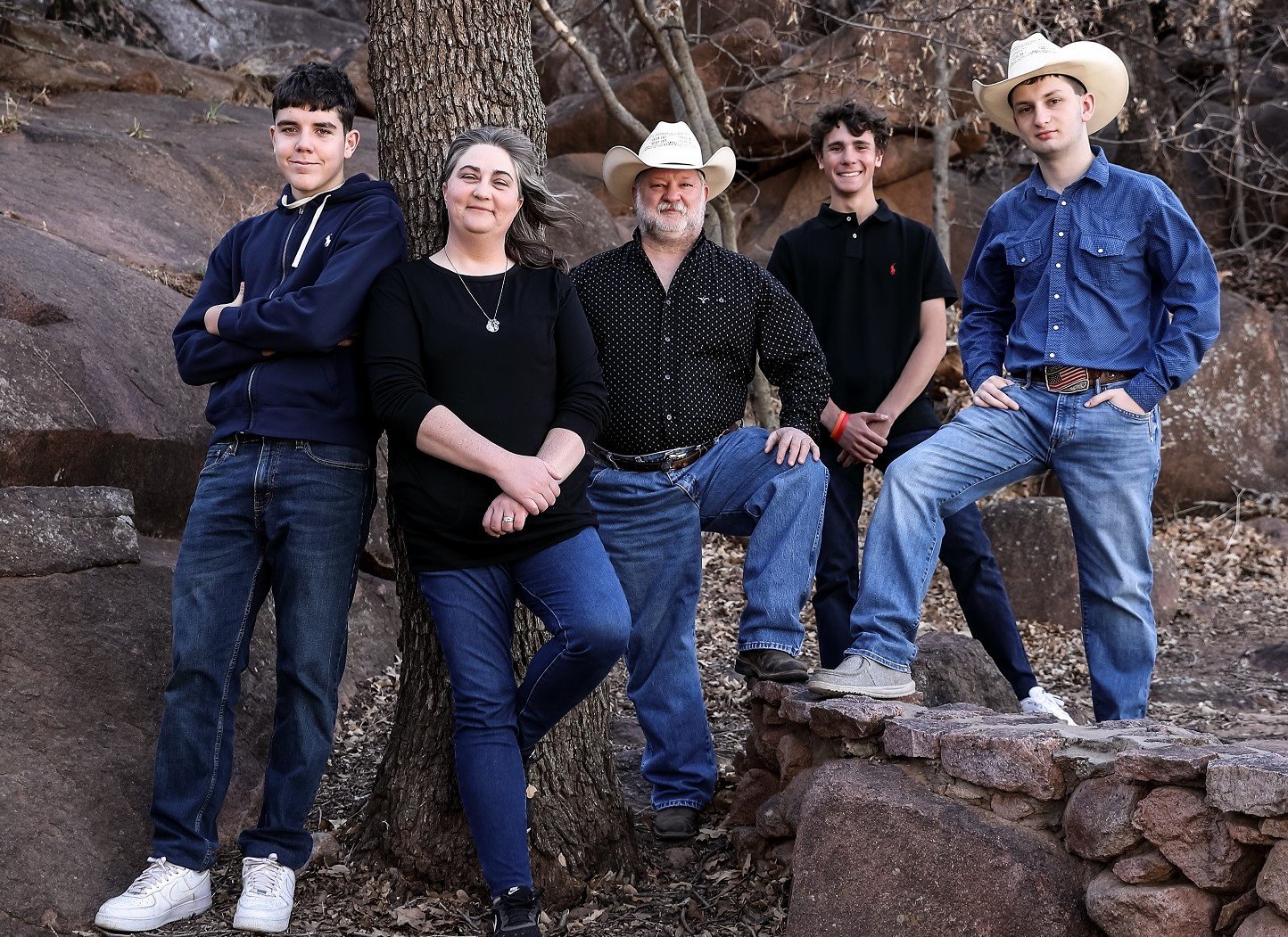 The Clement family with Mauro (Spain) and Alessandro (Italy)
---
Natasha Fackler -

Mechanicsburg, Pennsylvania
We thoroughly enjoyed our experience hosting Montsita. We not only got to share our home, lives, and culture with her, but she became a part of our family. We then traveled to Barcelona, Spain and were immersed in Montsita's family, community, and culture.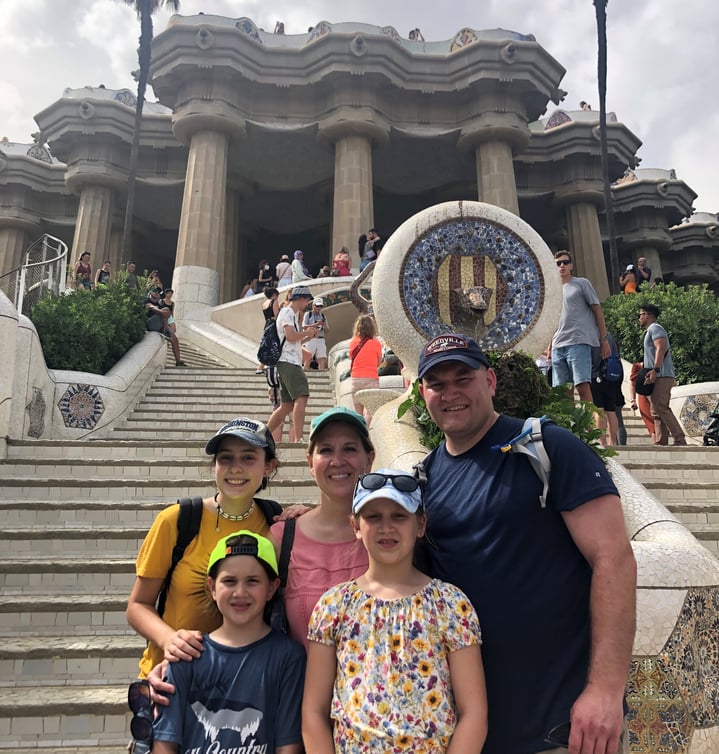 The Facklers and Montsita at Park Guell in Barcelona, Spain
---
Jimmy Samaniego -

Grants Pass, Oregon
We love hosting Exchange Students from different parts of the World mainly because it creates a lifelong relationship with their family and a friendship like no other. It's building a better understanding of our differences and helps you appreciate the similarities. We do our best to make them feel welcome during their stay in the USA and we try to teach them about our Holidays and Traditions. In turn, the students share their traditions and culture, which is exciting. We also love sports, traveling, camping, rafting down the river, and eating great food! Watching them playing American Football for the first time, or be a part of Basketball team, or participating in a Swim meet, is truly an amazing experience. Sharing these with someone who not only appreciates your support, warms our heart, and creates a memory you will never forget.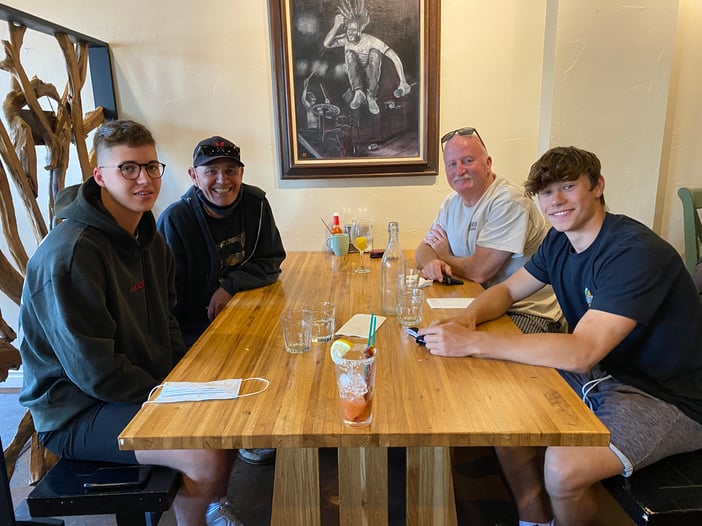 The Samaniegos with Nino (Austria) and Viktor (Slovakia)
---
Lexi Brooks -

Grand Rapids, Michigan
Growing up with a family who loves to travel and learn about other cultures has always left me eager to provide an adventurous and loving home for a student! We all had so much fun learning together and wouldn't change this past year for anything. If you're considering hosting- just do it!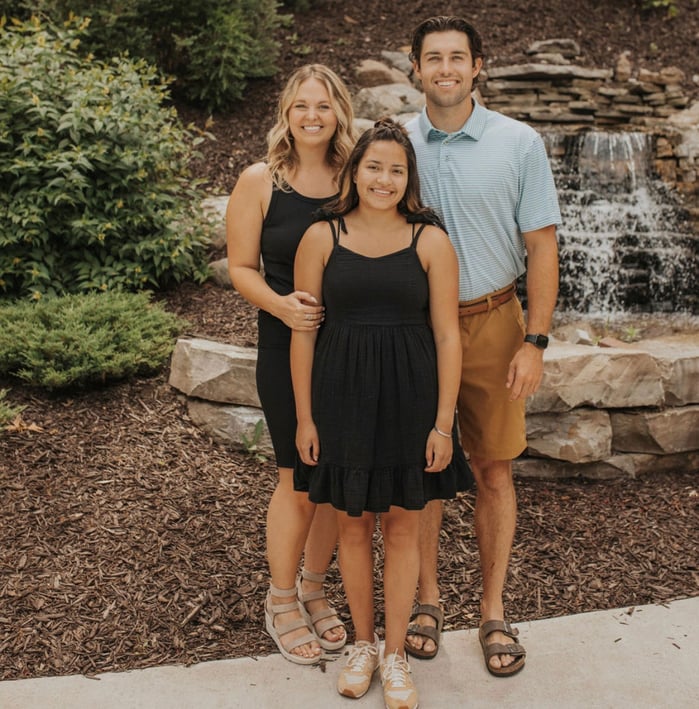 The Brooks family with Valentina from Colombia
---
Sandy Douglas -

Las Vegas, Nevada
We have really enjoyed being a host family! When you have a good placement, you do gain a new family member and you will keep up with your student for years to come.
We love traveling and have a young daughter, and we believe exposure to different countries and customs will only help her be a more well-rounded individual.
Having a student to show around has also made us go and do things in our area that we always put off until tomorrow. It is fun also seeing the students learn and grow in confidence as well as linguistically and culturally.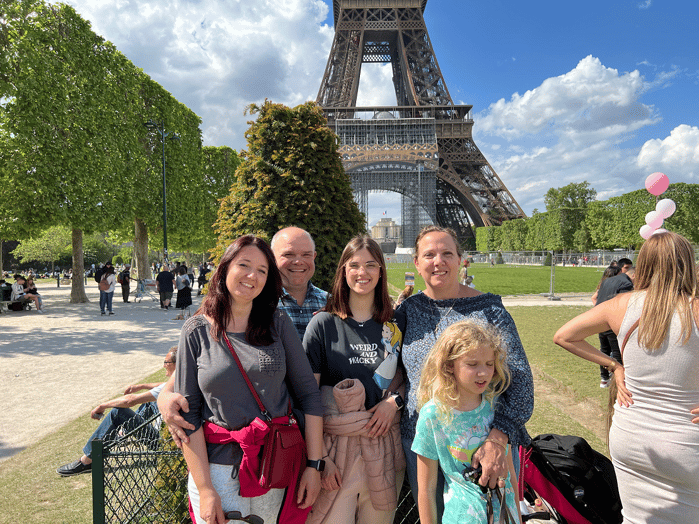 The Douglas family met up with Lena (Germany) in Paris
---
Each year, over 1000 families around the country host exchange students with ICES, and as you can see, the reasons for hosting are as varied as the families themselves! So whether you're looking for culture, travel, family, education, fun, adventure--or all of the above--hosting an exchange student can help you check the boxes.
It's not too late to host this fall! Contact us or click below to browse available students.