Sometimes love is found in the most unexpected places. We at ICES hear about students and host families' wonderful, life-changing experiences all the time, but this story even took us by surprise.
When Bob Dyer agreed to host an exchange student, it was a gesture of good-will. Bob is a kind-hearted man who enjoys investing in international youth by giving them the opportunity to experience a part of the U.S. that is very different from what they see in the movies. Bob's exchange students are able to enjoy the beauty—and the slower pace of life—on the rural Oregon coast.
In 2015, Bob decided to host Frank from the Czech Republic. As the school year began, Frank settled into a comfortable routine at home and school and started making friends. His American high school had several other exchange students, including an Italian boy named Dan.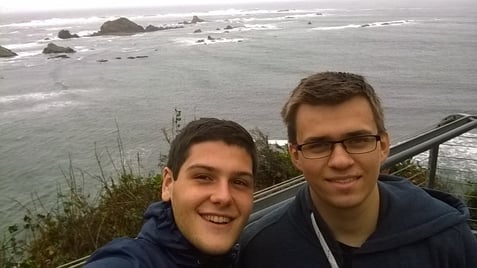 Dan and Frank on the Oregon coast
Dan had been placed late in the summer and was living with a welcome family—a temporary family to host him short-term so he could arrive and start school on time while his Local Coordinator searched for a permanent family for him.
As the two boys became friends, Frank invited Dan to spend the weekend with him and Bob for some fishing, video games, and whatever other American adventures they could find. During the weekend, Dan felt very comfortable in the home and got along well with Bob. It felt like home. Maybe it could be—his home?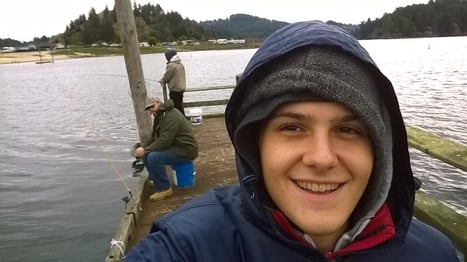 Dan approached Bob and laid it all out. He needed a host family, he felt comfortable in Bob's home, and…would Bob consider hosting him? Unbeknownst to Dan, the Local Coordinator had already discussed this idea with Bob, who had declined because he felt Dan's vegetarian lifestyle might not fit well with Bob's hobbies of hunting and fishing.
Dan persisted, and assured Bob that it would not be a problem. After all, Dan's family in Italy were not vegetarians either, so he was used to being in a home where meat was present. Although Bob was hesitant about the meat issue, he found Dan to be a polite, agreeable young man and decided to welcome him to the family. Looking back, Bob says, "I guess sometimes things happen for a reason."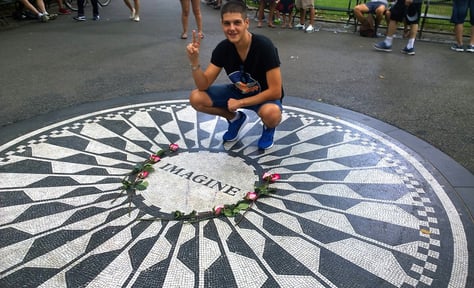 Dan quickly settled into family life with Bob and Frank. He established his weekly Skype call home to update his mother on all the adventures of his exchange. About a month after moving in, Bob casually asked when Dan was going to introduce him to his family in Italy. So, the next time Dan Skyped with home, he brought his laptop into the living room and introduced Bob to his mom, Carla.
Bob and Carla became Facebook friends so she could see pictures of Dan's adventures and occasionally chat with Bob about how Dan was doing. Carla was careful not to be intrusive, as she knew that it was important to the success of the exchange to let Bob do the parenting while Dan was living under his roof.
Carla missed her son, but she was comforted knowing he was in a safe, nurturing home and that he was happy and adapting well. She enjoyed seeing pictures of Dan's adventures in Oregon--sports, prom, family activities, and sightseeing trips. Eventually, Carla decided she wanted to see some of Dan's "American life" for herself. Although she had never flown before, Carla made plans to visit Oregon to watch Dan participate in his host school's graduation ceremony and see some of the beautiful Oregon sights Dan had told her about.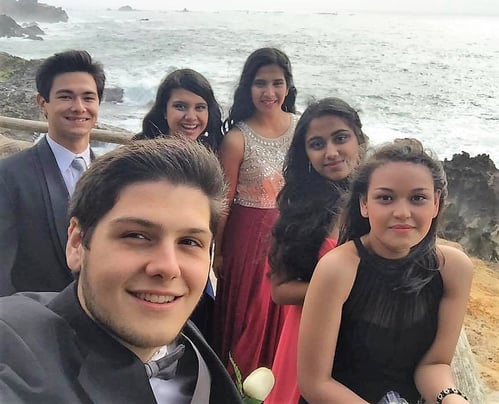 Dan with friends before prom
As the year progressed, Bob would say hello to Carla when Dan Skyped her, and occasionally, Bob and Carla would message each other. Over time, their conversations became more frequent as they discovered that Dan was not the only thing they had in common.
By spring, a budding romance had developed between them. Bob and Carla both insist that a relationship was the very last thing they were looking for—but it just happened. As it became clear that their relationship was developing into something special, Bob was concerned about how it might impact Dan, so he sat down to have a heart-to-heart talk and find out how Dan was feeling. Dan's response was simple: "Just treat her right."
Finally, the day arrived for Bob and Dan to drive to Portland to pick up Carla at the airport. Dan was excited to see his mom after months of separation, and to finally introduce—in person—his host dad to his mother.
As he waited for Carla to come through airport security, Bob said he felt like a teenager on his first date. He was nervous, excited, and amazed. Was this really happening?
Carla says, "It was a storm of emotions. It was my first time on a plane. I saw my son after almost a year, and I met my soulmate for the first time. . ."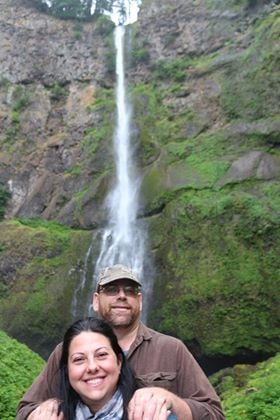 Carla's first day in Oregon
The next few weeks were full of activity. Bob and Carla attended the graduation ceremony at Dan's American high school and started packing him up in preparation for the conclusion of his exchange year and Dan's return to Italy.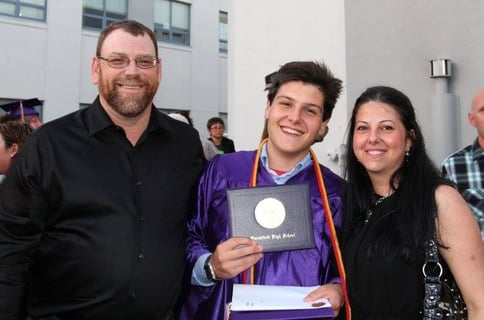 Bob and Dan enjoyed playing tour guide to Carla as they took her to the California Redwoods, Crater Lake, and had a traditional 4th of July fireworks celebration. All too soon, it was time for Dan and Carla to head back to Italy. While it was hard to say good-bye, they all knew it would only be temporary.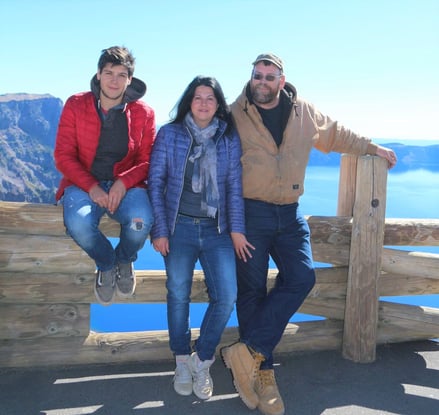 Crater Lake National Park
The next three years were filled with Skype calls and trans-Atlantic flights. Bob and Carla visited each other as often as they could, and nurtured their relationship virtually when they couldn't be together.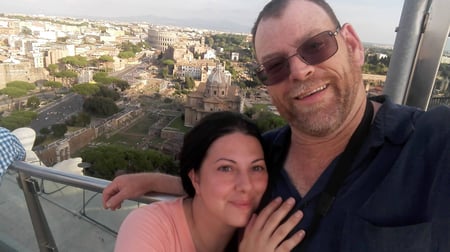 They spent one Thanksgiving in Arkansas so Bob could introduce Carla to his parents, and the next Thanksgiving in Italy so Bob could meet Carla's family. After Thanksgiving, Bob and Carla spent some time traveling Europe and enjoying the opportunity to be together. On Dec. 13, they visited the Leaning Tower of Pisa, where Bob got down on one knee and asked Carla to be his wife. She accepted.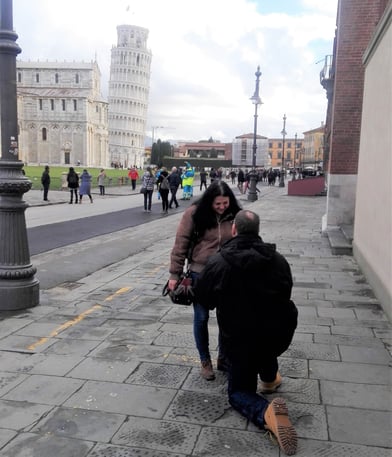 They couldn't wait to be together full-time, but planning an international wedding is complicated, and arranging Carla's immigration to the U.S. even more so. Bob visited Italy as often as he could until finally Carla was able to come back to Oregon—permanently.
After a few frenzied weeks of wedding planning, the day for which Bob and Carla had waited so long finally arrived. It was a gorgeous July day with clear skies, a brightly shining sun, and a gentle breeze at Shore Acres State Park. Friends, family—and ICES staff—gathered to witness the exciting event.
Bob stood on the platform of the gazebo waiting to see his bride. Carla put the finishing touches on her hair and makeup and adjusted her veil. Dan was all smiles as he walked his radiant mother down the aisle to give her away to his host dad. This beautiful wedding—and the story behind it—were like a fairytale. But this was real.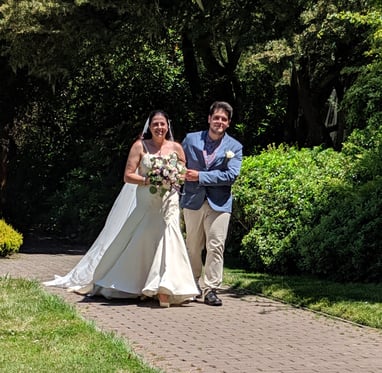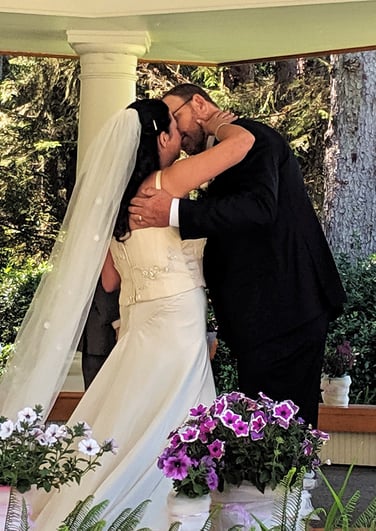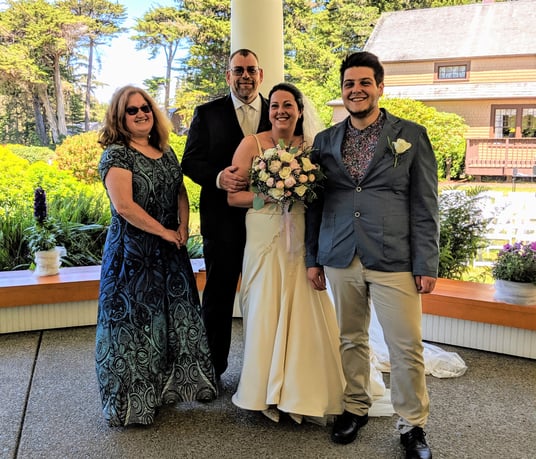 Bob, Carla, and Dan with their ICES Local Coordinator, Lisa Herbert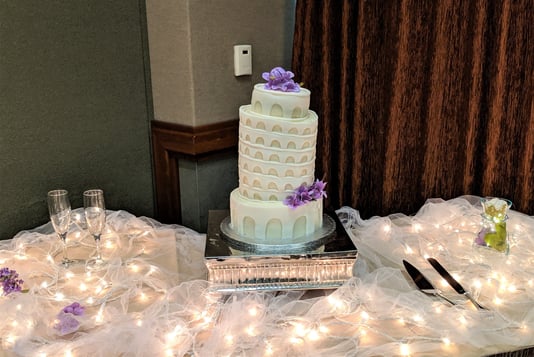 The Leaning Tower of Pisa wedding cake, in honor of the place Bob proposed
Bob and Carla recently celebrated their first anniversary. They have spent much of the past year working together to restore an older home they purchased. While Carla is thousands of miles from her homeland, in her heart, she is home. She says, "I just feel at home in his arms; that was and is my place. I feel happy, complete."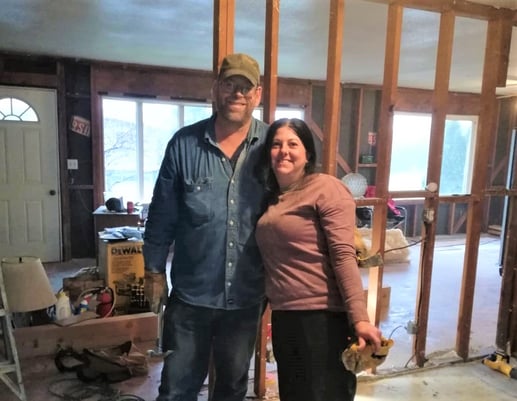 Since 1991, ICES has been bringing people, communities, and countries together through the power of youth exchange.
Bob and Carla's story is unique, and we won't make any promises that hosting an exchange student will lead you to your soul mate. However, we can confidently say that hosting an exchange student is likely to change your life.
Over and over again, host families tell us how hosting has deeply impacted their family for the better. It increases perspective and understanding, develops a broader world view, and it is fascinating and fun! Hosting adds a richness and depth that many families had no idea was missing.
Whether you are interested in hosting this fall (it's not too late!) or in the future, we encourage you to reach out to us. We'd love to hear your story and help you find how and when hosting might fit into your life.
And don't forget to scroll to the bottom of this page to subscribe to our blog!