What better way to start their year in the U.S. than by traveling from coast to coast! After discussing the idea with both boys' natural parents, it was decided that the Samaneigo family would pick up their exchange students in Washington DC and give them the trip of a lifetime, crossing the United States in an RV before spending their exchange year living in southern Oregon.
Host dad, Jimmy, said moving the family vacation to align with the boys' arrival not only allowed for some great historical learning and sightseeing opportunities, but an East coast arrival also made travel easier on the boys. Alex's flight from Spain was his first time ever on a plane, so arriving on the East coast allowed for a more direct itinerary with fewer connections. After a smooth trip, Alex arrived in D.C. the same day that Nicolas arrived from Slovakia, and they were ready for their adventure to begin.
A tour of Washington DC was first on the agenda. The boys found the monuments and historic sights beautiful, fun, and educational. Alex says, "Normally I don't like history so much, but I liked the things they explained in DC, and it was fun visiting the monuments."
As their journey continued, they visited the NFL Hall of Fame in Canton, Ohio. This was a special treat for Alex, who has played football in Spain for the past few years, and is eager to play for his American school. Nicolas plans to join the team as well, to have this American experience that is not available to him in Slovakia.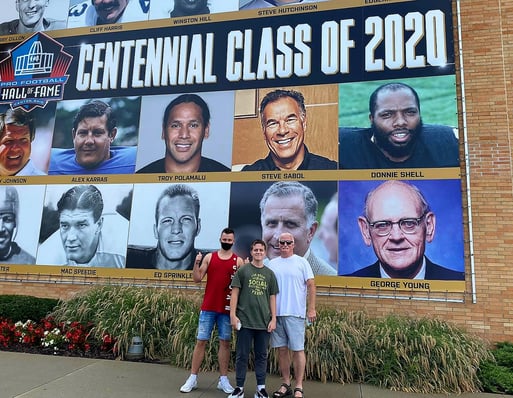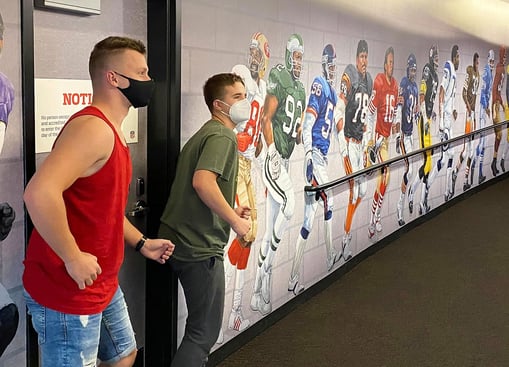 The next stop was beautiful Niagara Falls, where they experienced the view—and the spray—both from a boat tour and by hiking behind the falls.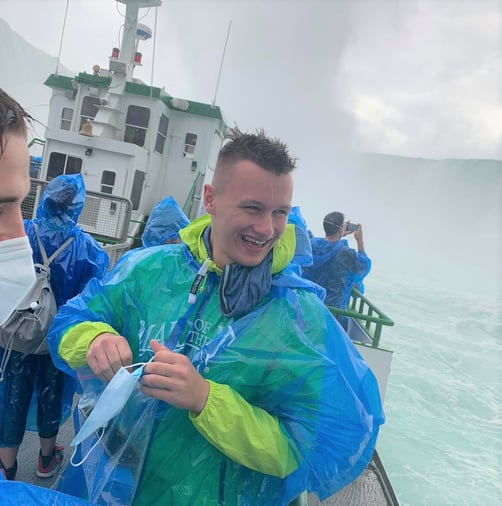 On to the Windy City, which was Nicolas's favorite part of the trip. He says, "Chicago is the most beautiful city, with its big buildings and lots of shopping. We had fun spending time together there."
Chicago held a variety of fun activities including an architecture tour up the Illinois River, visits to Soldier Field and Wrigley Field, and a stunning bird's eye view of the city from the top of the Sears Tower.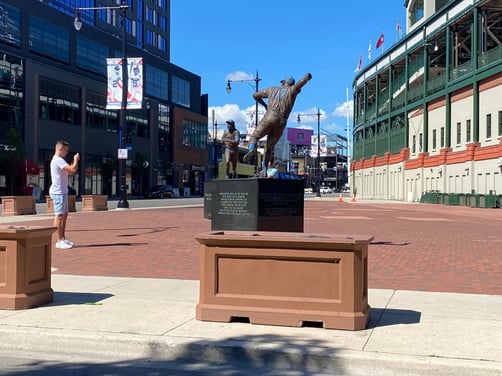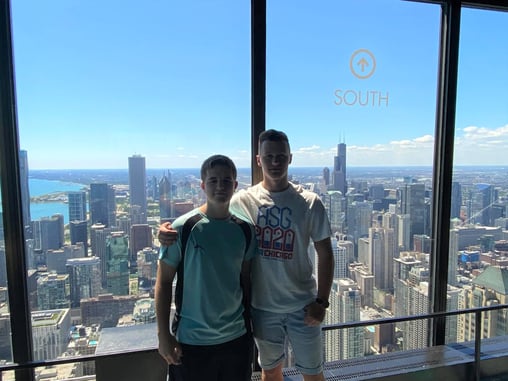 And of course, no visit to Chicago would be complete without indulging in their famous deep dish pizza!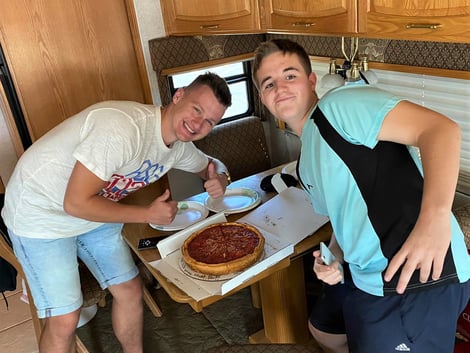 Wisconsin was next on the list, including a quick stop at Lambeau Field and a cruise on the Mississippi River.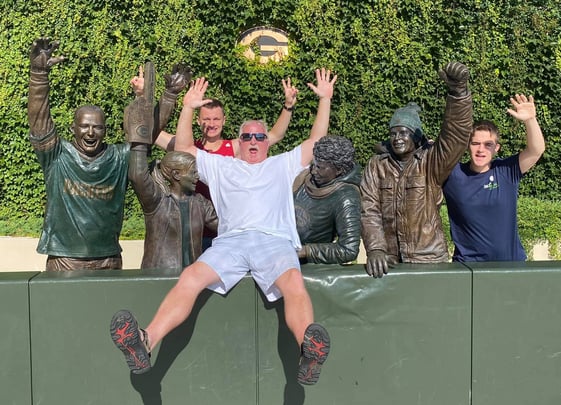 The fun and learning of the trip extended beyond new places and sights. While camping along the Mississippi River, Nicolas learned how to grill barbecued chicken—and from the looks of this picture, I'd say he did a fantastic job!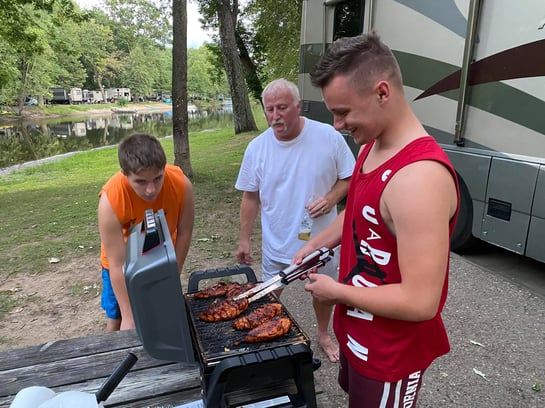 Continuing west, the family journeyed through Minnesota to South Dakota, where they did some exploring at Mt. Rushmore and visited the Crazy Horse Memorial.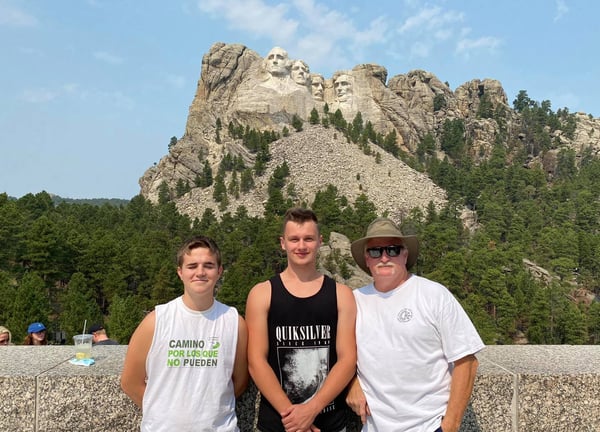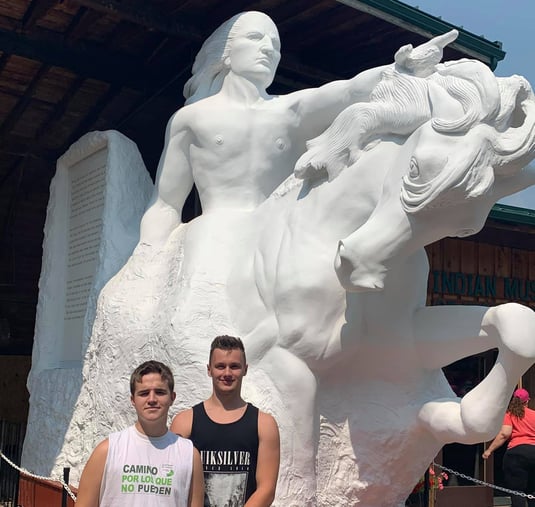 Next, they donned life jackets for a raft trip down the Snake River in Jackson Hole, Wyoming. Both boys agreed that this was one of the best parts of the trip.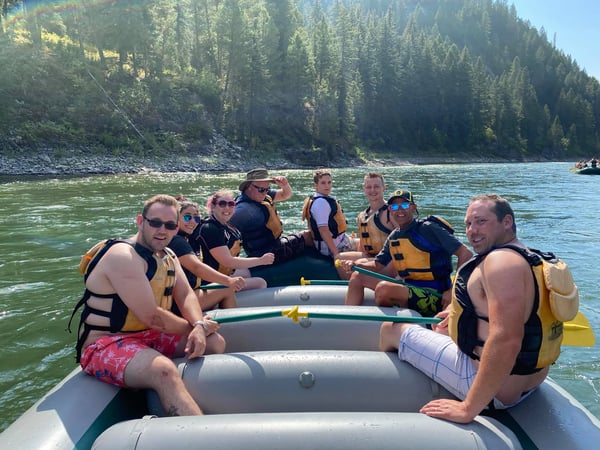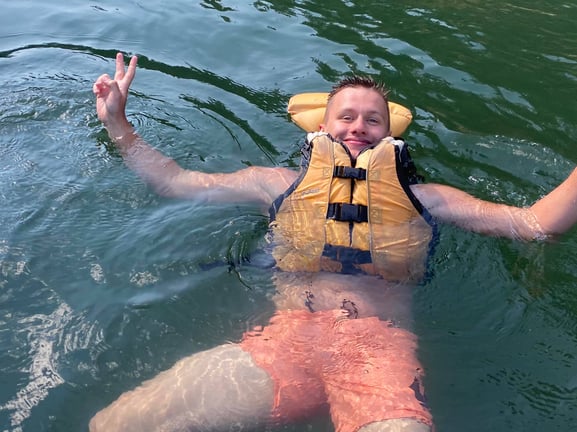 The last stop on the Itinerary was Yellowstone, which, unfortunately, they were unable to visit because of fires, so they headed to Oregon to settle into their new home and community.
Host dad, Jimmy, says the trip was an excellent way to begin the boys' year in the U.S. Not only did they get to see and do a lot, but the trip enabled them all to bond as a family in a relaxed atmosphere, and "glamping" in an RV helped them manage their own space safely and easily. When asked if Alex and Nicolas are getting along with each other, Jimmy replied, "They are like brothers who were separated at birth. It couldn't be going any better."
Both Nicolas and Alex are adjusting very well to life in the U.S., despite the unusual circumstances the pandemic has brought. They describe Americans to be "smiling and helpful", and they are integrating into the community well. Although their school is temporarily online, they are reaching out to classmates via social media, and both boys are happy to be making friends.
They are eager to see what this year will bring them, and they are both confident that their exchange will be filled with great things. They look forward to many more adventures with—in their words—"the best host family ever".
Do I have to take my exchange student on trips?
…and other Frequently Asked Questions
Q: Are host families required to take their exchange student on trips?
A: No. You are welcome to take your exchange student on trips and excursions, but it is not a requirement of hosting. The primary purpose of youth exchange is for students to fully engage in American culture by living as a member of the host family and attending the local high school.
Q: Would an exchange student be unhappy if the host family doesn't travel with them?
A: While many (but not all) exchange students do enjoy sightseeing, there are other ways they can accomplish this. Often, students visit local sites with friends or on school outings. In many areas, ICES Local Coordinators organize various outings and trips for students in their area.
Normally, ICES partners with Belo Tours to offer student trips to popular destinations. While those trips are currently on hold due to the pandemic, we hope to offer them as soon as it is safe to do so.
Q: Who is responsible for paying for exchange student trips and outings?
A: Whether traveling with the host family, school, or ICES staff, the cost for trips and excursions is the student's responsibility.
Trips and outings are just one way to help an exchange student have a fun and enriching experience. If you can provide a safe, nurturing home to an exchange student, chances are we have a student who would be a good fit for your family.
Contact us to learn more about the wonderful experience of hosting a foreign exchange student with ICES!