Congratulations to Seoyun Choi for being chosen as our ICES Student of the Month for November! Seoyun is from Yongin-si, South Korea, and is living with the Mason family in Robbinsville, North Carolina where she attends Robbinsville High School.
Seoyun's host parents, Rob and Robin, nominated her with a letter sharing example after example of how she is adapting to American culture.
Her host mom, Robin, says, "Seoyun is an awesome exchange student and has adapted to our culture, our language, and our family in flying colors. She does her chores without complaining. Her English has improved so rapidly that she seldom has trouble with our language. For someone from S. Korea this is no easy feat. For a young lady barely 15 when she arrived in the U.S., she has adapted and excelled immensely."
Civic Litteracy and American History are Seoyun's favorite subjects at school, and she says it's because there isn't much opportunity to learn about those things back in South Korea. "The teachers and students are really nice, and I'm really interested in American history because it is so different than South Korean history," she says. "I think it is every exchange student's favorite subject". While that last statement is open for debate, it has certainly helped Seoyun in her understanding of American culture.
She was also a member of her high school's color guard. Seoyun says being a member of this team has helped her in ways she never thought a school activity could. "Through this activity, it helped my confidence and self esteem to really develop. And it showed me how much my American experience helped me in so many ways . . . in every way, really."
When a student from a very populated city in South Korea moves to a small town in the mountains of North Carolina, you would expect there to be things to adapt to. And while that is exactly the situation in which Seoyun Choi found herself, she said this experience is fulfilling a lifelong dream for her. She explains, "Behind our house is a forest, and the place I live in South Korea is really big city, so it's really different. Actually, this was one of my American Dream, was to live in a more natural area. I really like it!"

Seoyun has also put her art skills to good use during her exchange. Her host mom, Robin, says, "She was persistent in asking her principal at Robbinsville High School to allow her to paint a mural of the school's mascot on the wall of the high school hall. She labored tirelessly for three weeks in her quest for perfection. Upon completion, the results amazed everyone in the school." This mural truly is amazing!
Congratulations again to Seoyun Choi, for being an example of everything that is great about cultural exchange! And thank you to her host family, the Masons, for sharing their hearts and home with Seoyun this year.
As the Student of the Month, Seoyun will receive a $100 Visa gift card and a letter of commendation from ICES President, John Crist.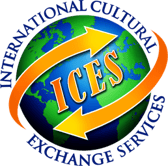 Nominate Your Exchange Student!
Each month, ICES selects a student who embodies the spirit of youth exchange by being an awesome exchange student. Has your student done a beautiful job of integrating into their host family and community? Or found creative ways to share their culture? Or given back to the host community by volunteering? Maybe your student struggled at first but has worked hard to overcome challenges of their exchange. There are many ways ICES students excel, so if you feel your student is awesome, please nominate them and tell us why!
Send us your student's full name, home country, and host city/state along with specific reasons and examples of why they are awesome.
Complete details available here.